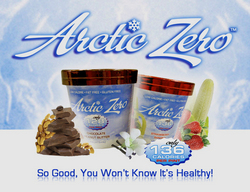 Temecula, CA (Vocus) March 8, 2010
Nearly one year ago, the small southern California company introduced a whey protein frozen dessert product at the Natural Products Expo where it attracted the attention of natural foods retailers. Arctic Zero is making its second appearance at the Natural Products Expo in Anaheim, California on March 12th-14th. Arctic Zero is an all natural protein shake in an ice cream form that contains 136 calories for an entire pint. In addition to the low calorie count, Arctic Zero contains 20 grams of whey protein per pint, and is fat and gluten free. It has a low glycemic index and is suitable for those that are lactose intolerant. With a texture likened to gelato, and a taste that makes it seem like it would have many times the calories, the likes of several Olympic athletes and Hollywood celebrities have given it two thumbs up.
Over the past year, Arctic Zero has increased the number of retail locations that carry the product from a handful to nearly 300 and is on track this year to double these numbers. The company is working to make this healthy frozen dessert more accessible to those searching for an ice cream alternative and in addition to standard retail distribution, Arctic Zero is also available through Amazon.com.
Arctic Zero is currently available in four flavors: Chocolate, Vanilla Maple, Chocolate Peanut Butter, and Strawberry Banana.
The company will debut its new flavor, Mint Chocolate Cookie, at the Natural Products Expo and will be available in retailers between April and May. If consumers would like to try it ahead of time, it is currently available on Amazon.com. By late summer, Arctic Zero expects to release two additional flavors, cookies & cream and coffee. With these additional flavors and increased store locations, Arctic Zero should be well positioned to satisfy the sweet tooth of Americans in a healthy way across the nation.
Arctic Zero, Inc. is a Temecula, California-based business that specializes in low calorie and nutritious frozen dessert products.
For additional information, contact Arctic Zero or visit http://www.MyArcticZero.com for further contact and location information.
###