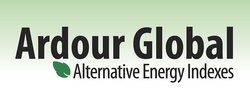 New York, NY (PRWEB) March 8, 2011
The Ardour Global Alternative Energy Index℠ (TICKER: AGIGL) will add three new components, effective 6:00 PM (EST) Sunday, March 20, 2011. One stock will be deleted from the index, changing the number of index components to 143. The changes result from the quarterly rebalancing of the index.
The Ardour Global Index℠ (Extra Liquid) (TICKER: AGIXL), which contains a fixed number of 30 stocks, had one addition against one deletion. Tesla Motors (TICKER: TSLA US) will replace Power-One Inc. (TICKER: PWER US).
Additions to AGIGL are: Capstone Turbine Corp (TICKER: CPST US); Steico AG (TICKER: ST5 GR); and ADA-ES Inc (TICKER: ADES US).
The deletion to AGIGL is: Leaf Clean Energy (TICKER: LEAF LN).
A complete list of constituents and weights will be posted on the AGI family of alternative energy indexes website (http://ardour.snetglobalindexes.com/about_the_indexes.php) as of the effective date.
The Ardour Global Alternative Energy Index℠ is a capitalization-weighted, float-adjusted index of the most prominent alternative energy stocks in the world. To be included in the AGIGL index, companies must be pure-play and the stocks must pass multiple screens, including for capitalization, float, exchange listing, share price and turnover.
Detailed index information, including constituent data, rules and price information, is available at http://www.ardourglobalindexes.com. Data is also available through most vendors of financial data.
###