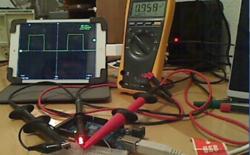 Electronics can be fun!
Oklahoma City, OK (PRWEB) April 16, 2013
Just today, Oscium's iPad oscilloscope finished its first Arduino project. The three part series introduced users to a basic circuit design and the result: an LED dimmer. The instruction includes a circuit schematic and block diagram complete with the iPad oscilloscope capturing the PWM (pulse width modulation) signal. For more granular detail, it is often necessary to take the raw data and export it so that it can be post processed. This is so more advanced measurements and custom analytics can be performed. In this example, learn how to calculate DC equivalent voltage. After completing the short series, users will be capable of using this technique to perform analysis of signals collected from independent experimenting.
As a basic starter for Arduino, this series explores why resistors are important. Resistors can limit the flow of current through the circuit and protect against over voltage. It's also critical to know what tools are necessary to complete a project. For example, when is a DMM (digital multimeter) enough and when is an oscilloscope needed? Answers to these questions are explored in more detail. Finally, learn how to choose an ADC (analog to digital converter) and what factors to consider. Electronics can be fun! Incorporating an iPad oscilloscope into the learning process is just one way to spice things up a 'bit'.
About Oscium
Oscium delivers personal instrumentation that leverages the easy-to-use interface of the iPad, iPhone and iPod. As an app-cessory maker, Oscium designs both an accessory and an app for each tool. Using touchscreen-based technology, Oscium is making cutting edge test equipment more intuitive and easy to use. Oscium has created a new category in test equipment called iOS Test with the following first-to-market accessory tools: LogiScope (logic analyzer), iMSO-104 (mixed signal oscilloscope), WiPry-Combo (combination spectrum analyzer & dynamic power meter), WiPry-Spectrum (spectrum analyzer).
The Future of Test Equipment is Here.