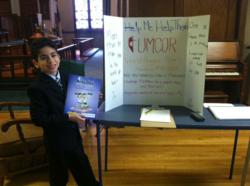 Using his gifts in math to help others in need, 1st grader Matthew Flanders of NJ raised $50 for UMCOR by challenging individuals at his church to a math race
Edison, NJ (PRWEB) May 17, 2013
ALOHA Mind Math student and New Jersey first grader Matthew Flanders combined his love of math with his desire to help feed the hungry. Using his gifts in math to help others in need, Matthew raised $50 for UMCOR by challenging individuals at his Somerville, NJ church to a math race, who can get the answer faster, Matthew with his ALOHA mental math or the child or adult with or without a calculator; Matthew won every time. In this unique way, Matthew Flanders raised $50 for UMCOR, United Methodist Committee on Relief, a not-for-profit organization dedicated to alleviating human suffering around the globe: http://www.umcor.org.
Matthew loves to share his ALOHA Mind Math skills whenever he can, and he came up with the idea to use his gifts in math to help others in need. In late April, He created a poster to invite folks to "challenge" him to the best of five math races. Arithmetic equations were written on a white board, then Matthew and his challenger would "race" to calculate the answer first. He had some middle school students as well as many adults compete. Without fail, Matthew would arrive at the correct answer, often times before the other person had made the first calculation of the series. It was a great way to share what he learned at the ALOHA Mind Math learning center. Everyone was eager to hear his story--- and play with the abacus! He set his poster up after church on two Sundays in late April, having an average of 40 people pass his table.
The academic enrichment programs provided by ALOHA Mind Math gives kids life-long skills, through their elementary school programs. Parents who want to give their high-achieving children more tools to help them excel will find ALOHA's enrichment programs helpful. For children who need math help or improved reading and writing skills, ALOHA gives them a broader skill set to help them do better in school.
Pioneering a unique mental math tutor program called ALOHA Mind Math, "ALOHA" stands for Abacus Learning of Higher Arithmetic. It is designed for children age 5-12 years old. An Abacus is an ancient calculator tool used by sliding beads to count. If it sounds too simple to work, people might be surprised to learn that these instructor-led, small-class-size, math tutoring sessions teach children to solve complex arithmetic questions (think: (128+432-46+514) / 82) in their heads more quickly than most people can on a standard calculator. It also helps overcome the fear of arithmetic.
ALOHA's teaching style is not the repetitive or rote-learning approach to teaching kids math. The method focuses on a kinesthetic way of learning that promotes development in both the left and right lobes of the brain and improves focus giving kids a head start in all academics. ALOHA USA uses teacher-led classes in a small group classroom with an interactive style, not just worksheets or online tutoring.
ALOHA Mind Math also offers language arts, reading and writing supplemental education for children in grades one through five. The goal of the teacher-led language arts programs is to inspire children to read and write without difficulty. The structured program motivates and stimulates young minds, and develops a passion for reading and writing.
About ALOHA Mind Math
ALOHA Mind Math, was introduced in the United States in 2006 and today has a presence in over 18 states, 23 countries and 4,200 locations. ALOHA has 150 tutoring centers in the USA including AL, CA, CT, FL, GA, IL, KY, MA, MI, MO, NH, NJ,NY, NC, OH, PA, TX and VA. With the help of the abacus, ALOHA has created a new dimension in the field of teaching math and the language arts to young children helping them overcome their fear of arithmetic and numbers. Discover the Genius in your Child. For information, visit alohamindmath.com or contact the nearest ALOHA tutoring center to you and schedule an orientation. For resources on teaching your kids, see ALOHA's blog for kids at http://ALOHAmath.com.