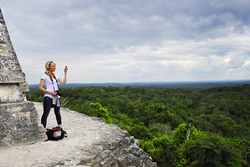 ...the transfer of confidence between consumers and the brand was happening much faster than expected—especially for an awareness campaign.
Chattanooga, TN, USA (PRWEB) February 15, 2011
Digital marketing agency AREA203 (http://www.AREA203.com) launched a brand awareness campaign for the Guatemala Tourism Board (http://www.VisitGuatemala.com), the governing entity responsible for tourism in Guatemala. AREA203 oversaw the entire campaign—strategy development, creative execution, online ad management, social media community management, and analytics reporting. Prior to launching the 60-day campaign in November 2010, AREA203 sent a team from their U.S. headquarters to discover for themselves what many are now calling the best-kept secret in Central America.
The exclusive components of the campaign held an overarching theme of the tagline "Heart of the Mayan World." Tactics included Google AdWords ads, targeting adventure seekers and culture enthusiasts interested in recreational activities, Maya culture, and Central America as a travel destination. Display ads were designed and launched on popular travel sites where the target audience was known to spend time gathering travel destination information, such as LonelyPlanet.com. The campaign was tied together through the implementation of a comprehensive social media strategy driven by increasing overall awareness and engagement within online communities. An aggressive Facebook ad campaign was launched to enhance exposure and impression volume during the last four weeks of the campaign.
The campaign resulted in a surge of online traffic volume during the first week and continued to deliver high conversion rates through the end of the year. Hemant Butti, VP of Marketing for AREA203 said, "Digital marketing is our craft. We developed a unique marketing formula which embraces analytical data in order to enhance the diverse digital components throughout the duration of the campaign." He further explained, "I was delighted that our team's hard work exceeded campaign goals and expectations in every category."
The social media team at AREA203, led by Casey Knox, grew the Facebook and Twitter communities for the Guatemala Tourism Board by 39% overall; total interactions increased by more than 2100%. When asked how social media impacted the 60-day campaign, Casey explained:
"As consumers, we use social media to share experiences. Social media marketing leverages these experiences by connecting people with each other—and with brands. So, for instance, active users began visiting the Guatemala Tourism Facebook page in order to plan their vacations. This illustrated that the transfer of confidence between consumers and the brand was happening much faster than expected—especially for an awareness campaign."
AREA203 President Doug Freeman stated, "As with each of our clients, we see the Guatemala Tourism Board as both a client and a strategic partner, enabling us to provide the right mix of digital solutions." He added, "Our clients rely on us to stand at the forefront of our industry so they can stand at the forefront of theirs; this requires expert-level know-how with regard to digital technology and sociological behavior."
About AREA203
AREA203 is a digital marketing agency that emerged from the growing demand for a new kind of marketing agency—one that holds innovation at its core; where strategic insights stir up results-driven, creative solutions. With offices in the U.S. and Central America, AREA203 delivers a broad range of services, with capabilities supporting both online and offline marketing channels. Visit AREA203.com for more information; join AREA203 on Facebook and Twitter.
Contact:
Casey Knox, Digital PR Manager
1 423 702 7095
# # #