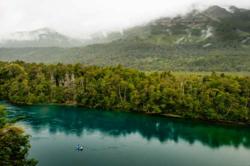 The thing enjoy most about Patagonia is the unspoiled scenery and lack of anglers on the water, it is like stepping back in time and fishing Montana 50 years ago
Bozeman, MT (PRWEB) December 10, 2012
Montana Angler Fly Fishing recently announced a partnership with Patagonia River Guides to expand their destination fly fishing travel services in Argentina. Montana Angler currently hosts trips annually to Chile and Patagonia. Patagonia River Guides is owned by Montana natives Travis Smith and Rance Rathie. PRG owns a lodge in Trevelin in the Chubut Province of Central Patagonia and leases several lodges in Northern Patagonia near San Martin as well as a lodge farther south in the remote Rio Pico region. PRG guides are native Argentines and most have over ten years of guiding experience. Patagonia is home to some of the world's most productive trout streams and rivers. According to founder Travis Smith: "The thing enjoy most about Patagonia is the unspoiled scenery and lack of anglers on the water, it is like stepping back in time and fishing Montana 50 years ago."
"Patagonia is a vast region with a huge variety of amazing trout fisheries" states Montana Angler Fly Fishing outfitter Brian McGeehan. "What impressed us about the Patagonia River Guides program is how flexible they are with their fishing schedules. They have worked extremely to gain access to several private estancias in order to provide their guests with a huge variety of very lightly fished waters. They also have permits for some really amazing waters in some of Argentina's spectacular national parks. Generally guests on their trips fish a new piece of water every day and they change the fishing program based on current conditions. They have a very similar philosophy to us on fishing rotations and provide a lot of variety to their guests. Travis and Rance, the founders of PRG, have also put together an incredible team of guides which always makes a huge difference."
Montana Angler Fly Fishing (http://www.montanaangler.com) is based in Bozeman, MT and specialized in designing customized fishing itineraries for guests across much of Western Montana. In addition to numerous lodges in their home state, Montana Angler also partners with a select group of international lodges in Chile, Argentina and the Bahamas where they lead annual hosted trips.