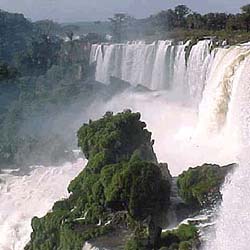 Budget-friendly does not mean lower quality. We never sacrifice program quality. These programs are simply not our first choice if everything else was equal.
Philadelphia, PA (PRWEB) June 27, 2011
International award-winning educational provider, AmeriSpan Study Abroad, has added a budget-friendly Spanish school in Buenos Aires, Argentina targeted at students who would like to learn Spanish in Argentina. Increasing the number of budget-friendly schools is part of the organization's Study Abroad Push It Forward initiative with the goal of making it easier for people to study, travel and work abroad. Other parts of the initiative include student-friendly prices on college study abroad programs, scholarship grants, and an innovative fundraising program.
AmeriSpan Vice-President, Beth Lieberman explains, "Budget-friendly does not mean lower quality. We never sacrifice program quality. These programs are simply not our first choice if everything else was equal. These schools may have a few more students in a class, less variety in program options, or fewer lodging choices.
As the job market and college acceptance has grown more competitive, students and professionals have become more globally minded. Learning another language, especially Spanish, is fast becoming a required skill for many occupations. Language immersion or studying the language in a country where it is spoken is recognize by most as the fastest way to achieving proficiency. For nearly 20 year, AmeriSpan Study abroad has specialized in language immersion, including Argentina Spanish schools and other educational travel programs.
Students are enrolling in overseas study programs in record numbers for numerous reasons: enhanced educational experience and an improved college resume, a broadened personal and cultural experience, further mastery of the nuances of a second language, the exploration of foreign universities, and discovering whether a particular country is a good fit for an individual are all reasons that students are opting to study abroad. AmeriSpan's offering in Buenos Aires is certain to provide all of these opportunities, along with delivering a thoroughly enjoyable learning experience.
Our goal is to always deliver high quality programs at affordable prices. In the current economic environment, we are trying to offer budget-friendly options in our most popular destinations. Since so many people are looking to learn Spanish in Buenos Aires and there are several Buenos Aires Spanish schools with excellent academic programs, this was a place we wanted to add a program," commented John Slocum, AmeriSpan's co-founder.
Both of AmeriSpan's Buenos Aires Spanish schools are located in different parts of the cosmopolitan city of 11 million. The typical program includes 20 hours a week of intensive Spanish courses and a variety of optional cultural activities organized by the school. Participants have the option of living and eating with local families to further immerse themselves in the culture. AmeriSpan highly recommends family homestays because it speeds the process of learning the language by putting into practice the lessons from class.
Participants in the program are from a diverse range of backgrounds, and encompass all age groups and mainly from Brazil, North America, Western Europe and China. All language levels are accepted and programs start most Mondays year round.
AmeriSpan is a well-established agency that has been repeatedly nominated for the Language Travel Magazine Star Award, and in 2009 and 2010 was named the Best Agency in North America. The company's staff has a strong commitment to international travel, language-learning, and cross cultural understanding. Overall, AmeriSpan's Study Abroad offers programs in more than 100 cities and 45 countries worldwide.
###