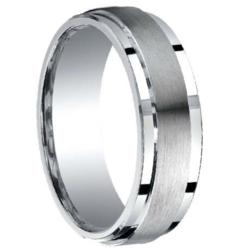 With the addition of Argentium silver rings and silver wedding bands, JMR is on the cutting edge of style in men's jewelry.
Jensen Beach, Fl (PRWEB) November 16, 2011
Since JustMensRings.com launched six years ago, the ecommerce retailer has emerged as one of the most popular online sources of affordable men's rings and wedding bands. Owners Roy and Judy Devine attribute their ongoing success with JMR to the depth and breadth of their inventory and they enjoy adding new ring collections regularly. This brilliant designer collection adds to their expansive collection of men's rings in every style and metal available.
One of the best known retail marketers in men's jewelry, JMR is pleased to add this extraordinary new collection of Argentium silver wedding bands. With the addition of Argentium silver rings and silver wedding bands, JMR is on the cutting edge of style in men's jewelry. Not many retailers are offering this high-end silver collection, so this news is certain to generate incremental traffic to the website (JustMensRings.com) As a niche online jeweler, JMR has continued to build a loyal base of customers. Everyday low prices and an endless selection of rings have prompted wedding planners to recommend this website to their clients.
These brilliant silver wedding bands are tarnish-resistant and have a color that is closer to platinum because they are made from a pure version of 93.5 percent silver, which is purer than traditional sterling. Alloyed with copper, this new metal is stronger and brighter in color than other silver-colored metals. As a result, Argentium silver rings and silver wedding bands have been in high demand since they were first introduced.
By adding this new designer collection, JMR is responding to increasing customer demand for men's silver rings and more affordable designer wedding bands. Silver wedding bands have also become much more prevalent in designer ring collections, particularly when they are made from tarnish-resistant Argentium silver. Brighter than white gold, platinum and traditional sterling, Argentium is the whitest metal of them all.
Over the past several years, studies have shown that shoppers have a higher comfort level for purchasing jewelry on the Internet. JMR's owners believe this acceptance has caused more couples to skip the high-pressure jewelry store in favor of purchasing wedding rings online. In addition to these new Argentium silver wedding rings, JMR offers an endless selection of men's rings in gold, sterling silver, platinum, tungsten, titanium, cobalt, stainless steel, ceramic, palladium and seranite. The unparalleled selection and prices at JustMensRings.com have attracted many new customers to the retailer, but it is the customer service and the quality of their products that keeps JMR customers coming back.
About JustMensRings:
As an Internet-only retailer, JustMensRings.com is dedicated to providing a simple and secure online shopping experience. This is one site where customers know they are getting the best possible prices on an extraordinary selection of men's rings. JMR's customers have come to expect high standards of service, selection and quality when they shop at JustMensRings.com. In fact, Just Men's Rings (JustMensRings.com) now offers the largest selection of men's fashion rings on the Internet, and they are the only store in the U.S. that offers men's large size rings through size 20. They also lead their competitors with an unparalleled assortment of unique and alternative men's wedding rings, and JMR is known for their very low prices on men's gold rings. Despite the recent rise in gold prices, JMR keeps their prices low and affordable, and shoppers won't find better prices on silver, cobalt, palladium or platinum anywhere.
# # #