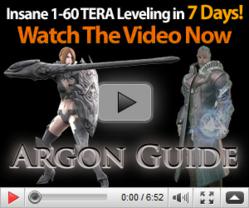 (PRWEB) May 01, 2012
TERA Online is a revolutionary MMORPG developed by En Masse Entertainment. The game fuses traditional features of MMO gaming with the realistic combat elements of action games, offering true action combat through the game's dynamic battle system. The game, set for release in the US and Europe in May 2012, will be available on the PC. (source: tera.enmasse.com/game-guide/faq). This week features the release of the Argon Guide, a professional player's guide created by Mike Kim and Tony Sanders.
The Argon TERA Guide, with more information at argonteraguide.com, is designed to help new players quickly master the game. The guide promises to teach its members how to take their character to level 60 in seven days or less. It also offers effective ways to advance in the game and obtain valuable items without the use of illegal methods, 'farming' or hacking. The guide also provides invaluable information to help players complete quests quickly and easily, offering detailed game maps that include the locations of rare and secret items. Further, the Argon TERA Guide offers free 24/7 customer support to help players work through in-game difficulties and optimize guild performance.
Tony Sanders, co-author of the Argon TERA Guide, teamed up with leading gamer Mike Kim to build the guide in advance of the global release of Tera Online. From Sanders: "(Kim is) designing the guide, taking the techniques which have made him huge in TERA (Korean version) and adapting and tweaking it for the English version, making this the #1 TERA guide in the market!" The collaboration promises to bring, for the first time, over twelve months of in game experience to new players, an advanced learning course that should give players the edge over their competitors.
The Argon TERA Guide is dedicated in providing information that complies with TERA rules. Unlike other gaming guides, Argon promises guidance that cannot result in banning from the game, and offering value to players that other guides cannot match.
More details and features can be found at http://argonteraguide.com.