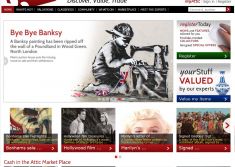 Argonon CEO, James Burstall, added: "We're delighted to be in a position to take one of the world's most popular programme formats and re-imagine it for the digital age."
London (PRWEB UK) 9 April 2013
Leopard Films television brand Cash In The Attic has unveiled CashInTheAttic.com, an interactive, content-rich site which aims to be the definitive online hub for fans of antiques, collectibles and vintage items.
Launched by MD Martin Lowde, the former director of digital entertainment at 19 Entertainment, the Cash In The Attic format is produced and owned by production group Argonon which was formed by Leopard Films CEO James Burstall in 2011.
CashInTheAttic.com allows for regular traders and first-time sellers alike to have their items valued by a panel of experts and sell their items through the site if they wish.
Lowde commented: "Our ambition is to de-mystify the world of antiques by connecting the public to the UK's leading experts in this area and to present all information in easy-to-understand, jargon-free language. We expect the site to have universal appeal and look forward to welcoming a new generation of antiques fans, and all those simply curious about how much their stuff might be worth, onto CashInTheAttic.com for the first time."
The website, built by London-based multi-platform specialists Miomni, invites members of the public to upload images, videos and descriptions of items for the team of 20 valuation experts from 35 different categories to cast their eye over. The team will then respond within 48 hours with a valuation along with advice on how the item should be sold. Low value items can be listed on the site's 'Marketplace' which works in a similar manner to eBay, and owners of high value items of interest will be guided through the process of trading the item professionally through the site's partner auction houses.
Over 15,000 video clips of all the items ever valued on the TV programme will be housed on the site, organised and categorised by type. An antiques, auction and community new and features section will feature alongside an aggregator platform of items in the wider antiques, collectibles and vintage world to be viewed or bought, an interactive forum, a classified ads section, and an industry events calendar.
Argonon CEO, James Burstall, added: "We're delighted to be in a position to take one of the world's most popular programme formats and re-imagine it for the digital age."
---ENDS---
For further information, please contact House PR:
Ffion Williams / Rich Turner
020 7 291 3039 / 020 7 291 3021
ffion(at)housepr(dot)com / rich(at)housepr(dot)com
Notes to Editors
Argonon
Argonon is the super-indie production group, formed by Leopard Films CEO James Burstall in 2011. Leopardrama, Leopard Films, Leopard Films USA and Remedy Productions were the first to join the group, with Remedy Canada launching in June 2012 backed by Argonon. The group has been formed to bring together world class talent across the transmedia landscape, with headquarters in London, New York and Vancouver. Content from the group includes award-winning factual, factual entertainment, drama, comedy and children's programming.
Miomni
With offices in London and North America and over 12 years' experience in Digital Content Delivery, Miomni provides a multi-platform digital media solution delivering user interface, high-quality video content, interactive applications and e-commerce, to multiple platforms with full advertising capabilities. Miomni uses a proprietary content & asset management system incorporating a single integrated database for "over-the-top" global digital video delivery. Miomni also has the advantage of in-house creative services for advanced multi-platform User Interface (UI) design and User Experience (UX) navigation solutions, covering all viewing experiences.
For further information about Miomni Holdings Ltd, please contact:
Angel House, Angel Mews London N1 9HH
+44 (0) 207 837 1116
http://www.miomni.com