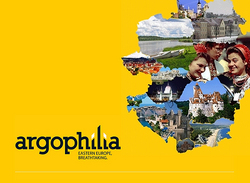 Trier, Germany (PRWEB) November 16, 2010
A 2010 report from the World Travel & Tourism Council revealed that Central & Eastern Europe travel and tourism will generate over $248 billion in economic activity (GDP) this year. Eastern Europe is the cradle of culture and spirituality on the continent, yet so little is known of the region outside Europe. Argophilia Travel News launched in an effort to fill this much needed information and communication gap.
Argophilia Travel News is the first International news medium specifically focused on this vital region of the world, but it also features world travel news. However, as a standalone media service, or as a social media arm of the parent travel portal, Argophilia Travel News will focus more on providing a genuine perspective of the world where Argo once sailed in the quest for the golden fleece.
The development of Argophilia (the startup) originated from the knowledge that this region is a highly underprivileged travel segment comparatively. Much of the travel industry disparity between Eastern European countries, and those elsewhere, is traceable to a lack of quality information and local news. This is where a digital portal like Argophilia Travel News fills the void.
Providing regional breaking news, cultural and historical editorial, rich media, and innovative social opportunities, the news service will help foster accelerated regional growth.
"We want to show the world that Eastern Europe is a beautiful, exciting and multi-cultural travel destination. Beyond prejudice, most of the countries in this part of the world are safe, and can be as rewarding to visit as any other popular destination worldwide, if not more so. We've made it our mission to give a voice to the unheard from. This is the power of the Internet after all, " said Argophilia CEO and Pamil Visions PR Principal Phil Butler.
Argophilia is a privately owned travel startup under development by the principals at Pamil Visions PR, and independent experts in the European creative and technology community. The company's goal is to be the premier provider of online travel information, tools and services in the region. Eastern Europe's most exciting attractions are off the beaten path. With people on the ground, Argophilia will open a world unseen before. Expect the unexpected: currently in private alpha, Argophilia will launch in public beta mid 2011. Please consult the attached multimedia materials for additional information.
###