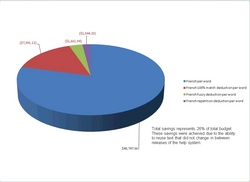 MadCap Lingo and Flare were easy to use with Across from the start, and we immediately recognized greater efficiency and quality in our translations
Glenview, IL (Vocus) June 3, 2010
Argo Translation, Inc. announced today that by using the XML-based MadCap Lingo and MadCap Flare products they have cut localization project costs by more than 26 percent. MadCap Software, Inc., is the leader in multi-channel content authoring and is a showcase company for Microsoft Visual Studio and Microsoft XPS. The MadCap Lingo fully integrated translation memory system (TMS) and authoring tool solution is integrated with the Across Translation Server TMS already in use at Argo. As a result, Argo's linguists can use a familiar tool while taking advantage of MadCap Lingo's improved consistency and efficiency. Additionally, the use of MadCap Flare multi-channel authoring software with international language support further facilitates translation.
Founded in 1995, Argo Translation has always believed that technology innovation is a critical component of providing world-class language services and solutions for foreign language translation, software localization, website translation, multilingual desktop publishing, interpretation and project management. Today the company is using the native XML MadCap Flare authoring tool and MadCap Lingo integrated translation memory system and authoring solution in combination with the Across Translation Server to deliver consistent high quality and cut project time by more than 26 percent.
"MadCap Lingo and Flare were easy to use with Across from the start, and we immediately recognized greater efficiency and quality in our translations," said Peter Argondizzo, President and Operations Manager of Argo Translation. "Flare is very dependable, and it seems like the MadCap developers were thinking about localization with Flare. When a change occurs in Flare, it gets reflected in all the language versions."
Three years ago, Argo Translation implemented the Across server-based TMS to support its vast network of translators. At the same time, Argondizzo was looking for a newer authoring product that would provide better support for translation. Argondizzo's search brought him to MadCap Flare, the XML-based authoring software featuring full Unicode support, making it inherently designed to handle both single-byte and double-byte languages. He also learned about MadCap Lingo, then in beta, and after becoming a beta tester, Argo purchased both MadCap Lingo and Flare.
Argo's first opportunity to work with Flare and MadCap Lingo came when its customer, Onset Corporation, needed to translate an online Help system for its industry-leading data logging solutions. Onset had developed its Help system using MadCap Flare, which is tightly integrated with MadCap Lingo. In turn, the combined TMS and authoring functionality in MadCap Lingo eliminated the need for file transfers in order to complete translation, preserving valuable content and formatting. In one translation of Onset's updated Help system alone—from English into French—Argo was able to cut 26 percent of the project time and costs.
"We've gone through two translation cycles with Argo," said Erich Roth, Onset Corporation software engineering manager. "They have gone above and beyond to deliver documentation on time and within budget. I highly recommend Argo along with the use of MadCap Lingo and Flare for any localization project."
Because MadCap Lingo can publish in multiple Web, print and digital formats, this helps Argo Translation support customers requiring multiple outputs—for example a customer that has Web content, a print version, and then additional cover page material all requiring translation.
"Based on our early success with these projects, we're seeing growing demand for translation projects using MadCap Lingo and Flare ," Argondizzo notes. "The quality, consistency and efficiency we're seeing with the seamless workflow enabled by these products represents the future of translation and localization."
About Argo Translation
Having successfully executed projects requiring simultaneous translations in 46 different languages, Argo Translation provides specialized and professional translation services for a multitude of domains ranging from legal and technical to marketing and financial and everything in between. Argo provides efficient, accurate translation and localization services focused on quality and clarity for a wide range of companies across North America. More information is available at http://www.argotrans.com.
# # #