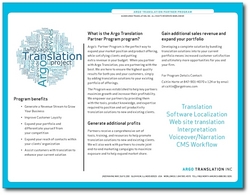 Glenview, IL (Vocus) July 1, 2010
Argo Translation, Inc. is proud to announce a new business development initiative called the Argo Partner Program. The program was developed by President, Peter Argondizzo and Marketing Coordinator, Caitlin Harte. The Program was established to help key partners maximize growth and increase their profitability. Argo Translation empowers their partners by providing them with the tools, product knowledge, training and expertise required to position and sell translation solutions to new and existing clients.
Argo's Partner Program is the perfect way to expand current market position and product offering, while satisfying clients and putting extra revenue in the budget. When a company partners with Argo Translation, they are partnering with the best. Argo Translation is there to ensure the highest quality results for both the company and their customers, simply by adding translation solutions to their existing portfolio. The benefits of the program include: generating a revenue stream to grow your business, improving customer loyalty, expanding your portfolio and differentiating yourself from your competition, and expanding your reach of contacts within your clients' organization.
Argondizzo says, "The introduction of this program will bring awareness to the benefits of including translation services as part of any company's product offering." Argondizzo continues, "Our partners have already seen positive effects of providing translation in their portfolio. The addition of translation services opens the door to a whole new group of clients, and also offers both new and current clients more of a 'one-stop shop' business model. The old approach would force the client to find a translation agency on their own and add complexity to the creation of multilingual documentation. This partner program will increase client satisfaction for companies adding translation to their list of services."
To view more about the Argo Channel Partner Program and download the program brochure, please visit http://www.argotrans.com/about/argo-channel/ or email Caitlin Harte at caitlin(at)argotrans(dot)com
About Argo Translation
Having successfully executed projects requiring simultaneous translations in 46 different languages, Argo Translation provides specialized and professional translation services for a multitude of domains ranging from legal and technical to marketing and financial and everything in between. Argo provides efficient, accurate translation and localization services focused on quality and clarity for a wide range of companies across North America. More information is available at http://www.argotrans.com.
# # #