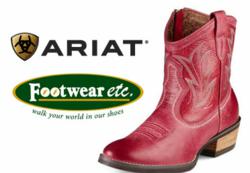 Ariat boots and shoes are popular with non-equestrians as well as athletes.
Sunnyvale, CA (PRWEB) October 15, 2012
Footwear etc. is delighted to announce that it has received new Fall Ariat Boots including the new Ariat Billie boot. With its side zip closure and decorative contrast stitching, this short boot is trending to become Ariat's #1 boot for the fall. The Ariat Billie contains versatility in that it will look great with jeans or even shorts as well as skirts.
Ariat boots are designed for advanced performance for equestrian athletes. These boots and shoes are technically innovative, so that equestrians can rely on boots that are not only attractive, but extremely comfortable and easy on the feet. With durable, lightweight designs that allow athletes to perform at their best, Ariat products have become the world's top brand for equestrians.
District Manager Andrew Monarch adds, "Ariat boots and shoes are popular with non-equestrians as well as athletes. They are stylish and comfortable, everything you'd want in a boot. We're getting a lot of customers who enjoy wearing them to country music concerts and the like."
Ariat® boots have been spotted on celebrities such as Blake Shelton and Lyle Lovett. There is an increasing popularity of these boots among country music fans, rodeo watchers, and even Olympic athletes. They have proven to be popular cross-over products from the competitive equestrian world to anyone who enjoys western or English-styled equestrian gear.
The new Ariat Billie boot is available in tan, black, and red leather. All of them are augmented by high-quality two-toned leather, decorative stitching, and exceptional durability.
Look for the entire collection from Ariat online at footwearetc.com and at their retail store locations in Northern California and San Diego.
About Footwear etc.:
Footwear etc. is a well-established, family-owned business, headquartered in Silicon Valley, CA since 1986. The company is committed to improving customers' quality of life by offering brand name products that demonstrate their belief in the need for healthful, comfortable and fashionable footwear. Footwear etc. operates nine retail stores located throughout the Bay Area and San Diego, and also offers their products on their website and catalog. To find out more, please visit http://www.footwearetc.com.