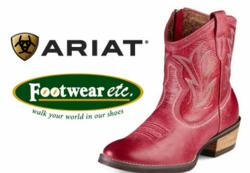 Ariat is a great brand not only for equestrians, but for anyone who wants high quality shoes and boots.
Sunnyvale, CA (PRWEB) February 26, 2013
Ariat creates technologies specific to particular types of footwear. They all contain outstanding support, but these technologies are meant to customize the performance for each type of shoe. These technologies include: the 4LR™, ATS®, and ATS® Max™ systems, which are multi-layered footbeds designed to support and cushion the foot, and provide shock absorption and stability. The Cobalt™, Cobalt™ Quantum, and Cobalt™ XR systems utilize many components to provide ergonomic performance. Some even contain orthotic support with gel-cushioned footbeds. Steel toes and composite toes are also available depending on the needs of the wearer, and a variety of outsoles are available for different types of uses.
Sales Manager Andrew Monarch adds, "Ariat is a great brand not only for equestrians, but for anyone who wants high quality shoes and boots. There are styles that will please serious equestrians as well as anyone who likes boots. In fact, a lot of our customers like to wear them to country music concerts!"
Some of the new Ariat boots include the Ariat Sheffield, which is a formal-styled boot appropriate for dress wear. Its vintage look and hand-crafted style is beautiful and elegant. A gorgeous, western-styled boot is the Ariat Pegosa. Available in Stone Washed Tan or Black Leather, the antiqued upper has Western-inspired stitching and a distressed outsole. The Ariat Probably Lacer is a rugged boot perfect for riding, or even hiking. The rubber outsole provides outstanding traction and stability. The Ariat Bedford is a classically-styled boot with rustic elegance. The hand-crafted leather upper is soft and luxurious, and is sure to be a hit with customers.
Look for the entire Ariat collection from Footwear etc. online at http://www.footwearetc.com/Ariat and at their retail store locations in Northern California and San Diego.
About Footwear etc.:
Footwear etc. is a well-established, family-owned business, headquartered in Silicon Valley, CA since 1986. The company is committed to improving customers' quality of life by offering brand name products that demonstrate their belief in the need for healthful, comfortable and fashionable footwear. Footwear etc. operates nine retail stores located throughout the Bay Area and San Diego, and also offers their products on their website and catalog. To find out more, please visit http://www.footwearetc.com.