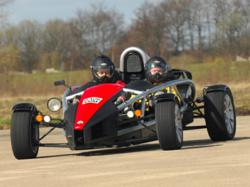 Ariel Atom driving experiences come in single drive packages or the Car can be driven as part of a multi-supercar package
(PRWEB UK) 28 May 2012
Trackdays.co.uk have announced the most popular car choice for driving experiences in 2012 has been the Ariel Atom. The high performance sports car which has featured on BBC series 'Top Gear' has outsold the Ferrari 360, Aston Martin DB9 and the Lamborghini Gallardo which were all top sellers in 2011.
Dan Jones, Operations Manager for Trackdays.co.uk, said, "It's not a surprise that the Atom has become so popular this year due to its appearance on Top Gear. It's an incredible Car to drive and has the fastest acceleration of any Car you can drive on our driving experiences. I have seen many customers have a go in the Ariel Atom and the reaction is bit of a mixed bag, it's not as easy or comfortable to drive as a Supercar and is more like an unhinged Go Kart than a Car! Most customers just cannot get over the sheer speed and handling of it but thoroughly enjoyed the Experience. There have been one or two however that reacted like they just stepped off a Rollercoaster!"
The Ariel Atom driving experiences come in single drive packages or the Car can be driven as part of a multi-supercar package. To view the latest driving experience offers, track days and products visit the Trackdays.co.uk website.