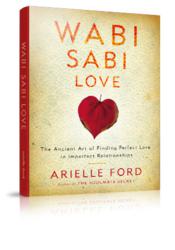 WabiSabiLove: Like two halves of a circle, each partner moves fluidly back and forth as in a dance.
Los Angeles, California (PRWEB) February 04, 2013
Men across the country become more obsessed than usual, much to the chagrin of their wives. During this time of the year, women often feel as though they are competing with football for their spouse's affections. In her book, Wabi Sabi Love (Harper One, an imprint of Harper Collins), relationship advice guru Arielle Ford teaches that it not necessarily a matter of "me or football", it can, instead, be "me and football".
She tells the story of her friend, Moji, who faces an important decision; "Her outgoing, athletic, and very funny new love interest seemed to have a fatal flaw: he was literally obsessed with football and everything related to it." She is tempted to pretend to enjoy it or to throw a fit whenever there is a game on, but, "…she decided that she really wanted to enjoy her time with him and not just fake it." Moji decides to find the redeeming qualities about the game and dive into it mind, body, and spirit. Before long, she was "hooked" and truly loved it. Now, they plan their social life around the football schedule, which, for the fervent fans even includes college and high school games.
This is just one of many ways that having a "generous heart" can make relationships stronger. Wabi Sabi Love helps couples to understand, love, and appreciate each other for their differences, not in spite of them. Whether it is football or annoying habits, wabi sabi love can help couples to go from annoyed to enjoyed, strengthening their relationships.
Arielle Ford
Arielle Ford is a highly influential personality in the personal growth and contemporary spirituality movement. For the past 25 years she has been promoting consciousness through all forms of media. She is the author of nine books including the international bestseller, THE SOULMATE SECRET: Manifest The Love of Your Life With The Law of Attraction. Her latest book is WABI SABI LOVE: The Ancient Art of Finding Perfect Love in Imperfect Relationships.
She is the author of seven books, including the Hot Chocolate for the Mystical Soul series and The Soulmate Secret: Manifest The Love of Your Life with The Law of Attraction. Ford lives in La Jolla, California, with her husband/ soulmate, Brian Hilliard, and their feline friends.
For more information, please visit arielleford.com
To receive a free video series and other great gifts please visit http://www.WABISABILOVE.com/gifts
Follow Arielle Ford on Twitter @ArielleFord
"Like" Arielle Ford on Facebook at http://www.facebook.com/SoulmateSecret
For media inquiries or to request a review copy, please contact:
Melinda Mullin Melinda.mullin(at)harpercollins(dot)com 415-477-4409