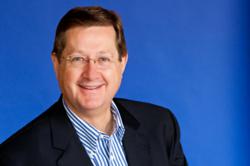 " I believe that ARIIX is in a great position to create positive change in this industry, and to revolutionize the way people think about their physical and financial health"
Bountiful, UT (PRWEB) September 13, 2011
ARIIX, a premier global health and wellness company, is pleased to announce that acclaimed financial investment expert and New York Times bestselling author Robert G. Allen has joined their team as a spokesperson and developer of Representative training programs.
Robert Allen has developed powerful programs for achieving personal and financial success, which have guided millions of readers for more than three decades. He has appeared on programs such as Good Morning America and Larry King, and has also been featured in national publications ranging from The Wall Street Journal and Money magazine to Redbook and Reader's Digest. Robert will play an important role at ARIIX, developing training programs for Representatives, as well as helping to spread their shared vision of true, long-lasting health and wellbeing.
Robert felt an immediate connection to ARIIX's vision of unleashing the human potential for good, and he was also drawn to ARIIX's emphasis on putting their Representatives first. These shared philosophies inspired Robert to join ARIIX, devoting his energies to endorsing its message and ensuring that their Representatives have the support and guidance they need.
"I believe that ARIIX is in a great position to create positive change in this industry, and to revolutionize the way people think about their physical and financial health," says Robert. "I am excited to be creating unique training programs for ARIIX that will focus on personal growth, financial success and overall health."
"Robert's talent for fostering entrepreneurial and personal success will be one of the keys to making our Representative support systems stand out," said Mark Wilson, president of ARIIX. "He is the real deal when it comes to caring about the impact we have on the world and commitment to helping others grow and succeed."
About Robert Allen
Robert G. Allen is one of America's most famous and influential financial advisors. He began his real estate investment career shortly after receiving his MBA in 1974 and has turned his successful experiences into several New York Times mega-bestsellers, including Creating Wealth and Nothing Down, which spent 28 and 58 weeks respectively on the New York Times bestseller list. His other bestsellers are Multiple Streams of Income and The One Minute Millionaire. Robert also shares his insight and success strategies on television programs including Good Morning America, Larry King and Your World with Neil Cavuto, as well as in national publications such as The Wall Street Journal, Newsweek, Barron's, Money Magazine, Redbook, and Reader's Digest. With his business partner, Thomas Painter, Mr. Allen is the co-founder of the Enlightened Wealth Institute. For more information, see http://www.robertallen.com.
About ARIIX
ARIIX is a premier health and wellness company that is using the latest research in nutritional science to create their leading-edge nutritional products. The company was born from the shared vision of leaders in business and nutritional science, who wanted to create a unique company based on the "golden rule" of helping others to unleash their potential for good. ARIIX stands out with their blend of global vision, outstanding industry experience and leadership, unparalleled quality nutritional supplements and the philosophy that when one person thrives, the whole community benefits.
###