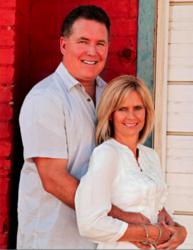 "We are ARIIX for life and look forward to the next 50 years of massive success!"
Bountiful, UT (PRWEB) September 29, 2011
ARIIX, a premier global health and wellness company, proudly welcomes veteran network marketing leaders Tony and Marsha Hughes to the ARIIX organization. Tony and Marsha have spent close to two decades in the world of networking marketing and bring to the organization their proven track record for home-based business success. Discouraged by what they felt was a growing trend of disregard within the industry for company representatives, Tony and Marsha were drawn to ARIIX when they learned of its unique bill of rights and dedication to protecting distributors' rights of ownership and protection.
When asked to give his impression of the Hughes team builders Tim stated "I have worked with Mr. Hughes for over 12 years. Tony and Marsha are not "just" networkers – they are true professionals! ARIIX is blessed to have them because they set the highest standard of professionalism and training. They don't just build the largest businesses in the world; they build the greatest relationships in the world. THEY LOVE THEIR PEOPLE. It is with tremendous honor to serve them and their organization." Tim Sales, one of the most successful network marketers of all time, and his wife Laura, are ARIIX's original distributors and an integral part of building training programs and providing inspiration to the company's representatives. He reached out to Tony and Marsha directly to let them know of this unique health and wellness company that is on track to completely change the industry with its mission to unleash the power of human potential on a global scale.
"I'll never forget when Tim told us about the bill of rights and talked about the distributors' right to ownership and protection," said Tony. "We had recently been terminated, through an email, from a company that we had dedicated our lives to for almost 12 years. Not one opportunity was extended for us to tell our side of the story, and none of our calls, emails or other attempts to communicate with them were recognized. We were devastated."
"We asked Tim if he would be willing to sponsor and train us. Within three weeks, thanks to the diligent mentorship of Tim and his wife Laura, we achieved the level of Officer of the company," said Marsha. "We are ARIIX for life and look forward to the next 50 years of massive success!"
ARIIX has turned heads in the networking marketing world due to its unique support system and approach to taking care of its representatives. Add to that the company's revolutionary health and wellness products, dedication to improving the lives of people on a global scale, and proven track record of success that its founders and partners have collectively achieved and it's no surprise that a wealth of breakthrough network marketing leaders are joining the company.
"We've never seen a more lucrative compensation plan anywhere in the industry," said Tony. "With a world-class commitment to create the best products on planet Earth, a compensation plan that will set your hair on fire, Tim Sales leading the sales force and a corporate management team with over 100 years of combined network marketing experience, our decision to join ARIIX was truly a no-brainer!"
About ARIIX
ARIIX is a premier health and wellness company that is using the latest research in nutritional science to create their leading-edge nutritional products. The company was born from the shared vision of leaders in business and nutritional science, who wanted to create a unique company based on the "golden rule" of helping others to unleash their potential for good. ARIIX stands out with their blend of global vision, outstanding industry experience and leadership, unparalleled quality nutritional supplements and the philosophy that when one person thrives, the whole community benefits.
###