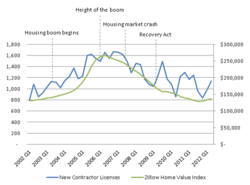 Phoenix, AZ (PRWEB) September 27, 2012
Today, BuildZoom announced in Q2 of 2012, the Arizona remodeling and construction industry experienced a second straight quarter of growth, a positive sign for a state economy particularly affected by the US housing crisis.
According to in-depth analysis of state licensure records, issuance of new contractor licenses in Arizona climbed 16%, between Q1 and Q2 of 2012. After hitting a 9-year low in 2011, new license issuance stood at only 8% below the 10-year industry average.
From a regional standpoint, activity within the Phoenix metropolitan area accounted for about 50% of new licenses issued in the quarter and along with Tucson, accounted for nearly all the statewide growth. Less populated areas including Prescott and Flagstaff experience slight declines int he quarter.
The majority of growth was seen in the residential space as both residential and landscaping licenses rose sharply in the quarter while commercial and electrical licenses experienced slight declines.
About BuildZoom
BuildZoom empowers homeowners to make better hiring decisions by providing them with a simple and effective way to find the best service provider for their next job. BuildZoom uses a Big Data approach that analyzes over 2 million remodeling contractors in the US against a broad set of quality indicators such as their license status, BBB ratings, consumer feedback and more. Each contractor is given an independent rating that determines their placement on BuildZoom.com, where consumers can freely browse and search to find the right service provider for their next job.