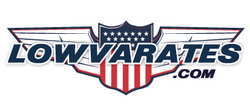 Veterans especially need help in the first six months to a year, as they move from a high-stress, highly structured environment into a looser one at college
Lehi, UT (Vocus) September 21, 2010
The military organization, LowVARates.com, has donated $250 to the Northern Arizona University Center of Excellence for Student Veteran Success to help veterans in Arizona returning from military deployments.
The donation will particularly help troops arriving at Northern Arizona University make the transition from combat zones to college.
Returning from military deployments can offer a challenging transition for many of our nation's loyal troops.
"Veterans especially need help in the first six months to a year, as they move from a high-stress, highly structured environment into a looser one at college," Director of NAU Veteran Affairs, Andrew Griffin said. "Many times people handling these issues do not fully understand a veteran's needs and benefits."
In the state of Arizona 33,340 military personnel have deployed since Sept. 11 with another 4,812 currently deployed (US VA, 2010). Arizona military personnel and veterans have provided a large boost by fulfilling deployments across the world. Arizona military personnel are also candidates for the Arizona VA loan, a military benefit which can be obtained via Low VA Rates.
NAU Center of Excellence for Student Veteran Success is dedicated to helping these troops make a smooth transition from a highly structured military environment to college life. Veterans also face many poignant readjustment barriers such as psychological issues in the transition to civilian life.
Owner of LowVARates.com, Eric Kandell, understands the transition back from deployments can be difficult for many troops.
"Some of our employees have returned from military deployments and have found it very difficult to assimilate back into society," Kandell said. "Because we have seen the effects first hand, our organization wanted to help our troops have a smoother transition."
In 2010, LowVARates.com has provided over $12,000 of donations to various charitable military organizations.
"We are constantly looking for opportunities to help the men and women of the U.S. Armed Forces," Kandell said. "As an organization, we feel it's the least we can do to show our gratitude for the sacrifices our troops make."
The Northern Arizona Center of Excellence for Veteran Student Success is also collecting tax-deductible donations to outfit the space and provide small grants for veterans and their families for living expenses. To donate, contact Andrew Griffin at 928-523-8555.
ABOUT LOWVARATES.COM
For the past 20 years LowVARates.com has been dedicated to serving veteran homeowners. We specialize in providing VA loans to qualified veterans for mortgage purchases and refinances. These loans provide lower interest rates and monthly payments than other traditional loans.
The VA loan is currently the only program left that allows no-money-down loans providing a secure mortgage option guaranteed by the Federal Government. Our professional staff and loan officers will assist you to lock in low interest rates and take advantage of the unique opportunity provided through VA loans.
ABOUT NAU VETERANS CENTER OF EXCELLENCE FOR STUDENT VETERAN SUCCESS
Understanding a veteran's unique needs such as physical and mental health issues, academic preparation, and past military credits/experience is critical to the veteran's success, and to the institution's success.
Student veterans most often navigate multiple university and college departments to identify and utilize the range of benefits and resources available to them.
NAU reaches out to the veterans arriving on their campuses and help them make the transition from the combat zone to college.
# # #