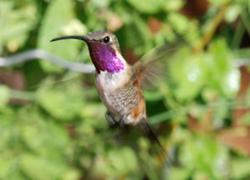 Education is a key to the success of Naturalist Journey's top-rated birding and nature tours.
Portal, Arizona (PRWEB) January 31, 2013
Naturalist Journeys, a top nature and birding tour company, is proud to announce their upcoming May 4-11, 2013, Southeast Arizona guided birding tour. A Southeast Arizona birding and nature tour, timed correctly, can illuminate the marvel of bird migration as thousands of small avian gems pass through the maze of Arizona's Sky Islands, a pearl-string of mountain ranges mainly south of I-10 that extends deep into Mexico. This phenomenon occurs each spring, peaking in late April and early May. Naturalist Journeys rates their upcoming Southeast Arizona Birding and Nature tour as one of the best tours for birders on which to learn the fundamentals of how birds function under the demands of migration, nesting success, potential predation and now, a changing climate.
Owner Peg Abbott states that education is key to the success of Naturalist Journeys' top-rated birding and nature tours. Learning gives significance to what travelers on a nature and birding tour experience so richly while in the region. She recognizes the company's guides as noted experts in their field, having a wide base of travel over multiple decades. Narca Moore-Craig leads this year's Naturalist Journey's Southeast Arizona birding and nature tour. She currently serves on the Arizona Rare Bird Records Committee. Narca credits her strong background in art as the enabling force for her to have such strong identification skills. She has illustrated a number of birding field guides over the years, and paints many of the region's species based on her photos and time in the field. Moore-Craig delights in the natural world, sharing it through her art, a lively Blog entitled Art and Other Adventures with Narca, and through inspired teaching. Throughout her almost 30-year career, she has engaged travelers with major non-profit groups from the World Wildlife Fund, the Smithsonian Institution, the San Diego Zoo, the Nature Conservancy and Harvard's Museum of Comparative Zoology.
Find full details of Naturalist Journeys Southeast Arizona Birding and Nature Tour at:

Naturalist Journeys owner Peg Abbott, along with Moore-Craig, is based in Portal, Arizona. She says, "Southeast Arizona is a star-studded region for birding if there ever was one. On a list of birds that makes an avid birdwatcher quiver, Southeast Arizona can claim many in the top twenty celebrities of the nation. Charismatic species like Elegant Trogons are more commonly expected in the tropics. Our Mexican Chickadees live regularly in no other mountain ranges than those seen from Portal— Southeast Arizona's Chiricahuas and the neighboring New Mexico Peloncillos. Red-faced Warblers top many a list; their face pattern so bright it is shocking. Birding here is just plain fun!"
More about Southeast Arizona Birding and Nature Tour, May 4-11, 2013
On this week-long birding and nature tour, participants enjoy great lodgings with local hosts and spectacular settings. South of Tucson, the Amado Territory Inn welcomes them with scrumptious meals and patio seating where birders can hear and see orioles, tanagers, and a real signature bird of the region – Vermilion Flycatcher. The Casa de San Pedro is nationally-acclaimed and situated right on the San Pedro River, a lush corridor vitally important to migrant songbirds. Portal Peak Lodge is the centerpiece of the picturesque one-street town often considered a birding "Mecca" to which many return. The tour begins and ends in Tucson, and includes a visit to the famed Arizona-Sonoran Desert Museum.
About Naturalist Journeys
Naturalist Journeys LLC, a top birding and nature tour company, offers specialty small group travel worldwide, from the western U.S. to Alaska, Hawaii and Florida, Costa Rica, Panama, safaris in Africa and more. Naturalist Journey's guided nature and birding tours feature expert guides with decades of experience in bird-watching, travel photography and other forms of eco-tourism. Naturalist Journeys also offers hiking and adventure travel tours in many national parks and wildlife reserves, including the Galapagos, Antarctica and the Amazon.