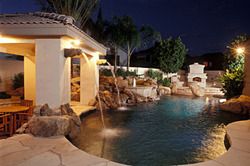 With the weather improving, it's a great time to make your backyard living space the environment of your dreams
Tempe, AZ (PRWEB) October 14, 2008 -
Creative Environments Design & Landscape, the #1 Arizona Landscape Design / Build Company, is offering great rates on landscaping and pool design for customers who sign contracts in October 2008.
"With the weather improving, it's a great time to make your backyard living space the environment of your dreams," said John Waters, Owner of Creative Environments. "We are thrilled to be able to offer attractive pricing and financing options on our custom landscape design and pool remodel packages to qualified customers."
Qualified customers may receive financing rates as low as 6.99% - 7.99% when they sign a new landscape or pool design contract by October 31. Financing is subject to approval.
To learn more about Creative Environments custom Arizona landscaping design and pool remodel services call 480-458-4100 or visit Creative Environments Arizona Landscaping.
About Creative Environments:
Creative Environments Design & Landscape, an industry leader since 1950, is the largest and most respected landscape design company in Arizona. We continue to win local and national awards from industry peers, as well as receive the honor of #1 Landscape Design / Build Company, as voted by the residents of the Phoenix-metro area.
Although unique and functional design is our passion, outstanding customers is our number one priority. Our talented Design Consultants will listen to you and then they will use their expertise to develop an architectural-quality landscape design plan that will create the outdoor living space of your dreams.
With our specialized construction crews and a fully-staffed customer care department, you can rest assured that your outdoor living environment will be installed correctly and on time.
Creative Environments can be found on the web at Creative Environments.
###