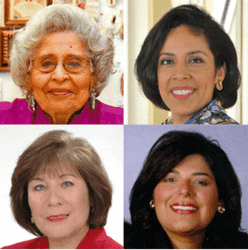 These honorees represent a mix of older and younger generations, and share a common characteristic of being relentless in their advocacy of providing opportunities and resources for all. -- Dr. Anna Solley, Phoenix College President
Phoenix, AZ (PRWEB) March 08, 2012
Four women who have dedicated their professional and personal lives to the betterment of their communities and achieved professional excellence resulting in paths for others to follow will be honored at the fourth Annual 2012 Arizona Latina Trailblazers Award event.
Presented by Latino Perspectives Magazine and the Phoenix College Raul H. Castro Institute with generous support from main sponsor Salt River Project, the March 28 event will pay tribute to four women. Anna María Chávez, chief executive officer of the national organization Girls Scouts of the USA, who returns to Arizona for the first time since she accepted the Girl Scouts national leadership position, public health advocate and former state legislator Amanda Aguirre, Elizabeth Archuleta, a Coconino County Board of Supervisor, and Terri Cruz, community advocate and longtime social services provider at Chicanos Por La Causa. Their careers span from public health to public service to social services.
The women exemplify the spirit and tenacity of past trailblazers while adding their own unique stories to the growing tapestry of Latinas celebrated as Trailblazers.
"These honorees represent a mix of older and younger generations, and share a common characteristic of being relentless in their advocacy of providing opportunities and resources for all," said Phoenix College President Dr. Anna Solley. "Their accomplishments and drive for excellence makes them outstanding role models."
Cecilia Rosales, editor of Latino Perspectives Magazine, commented, "As we celebrate our state's centennial, we are proud to document the life stories of these remarkable women, and add yet one more volume to the growing collection of educational resources created by our partnership with the RCI."
The tribute will be held at the Phoenix Art Museum from 5:30 – 8 p.m. The evening program will feature a digital collection of the women's stories, Arizona Latina Trailblazers: Stories of Courage, Hope and Determination, Vol. iv, which will premiere at the upcoming reception. In addition, a booklet detailing their professional and life histories authored by historian Jean Reynolds also will be available on a limited basis. Both of these educational resources will be contributed to Arizona's Centennial Celebration through the Arizona Latina Trailblazers collection of the Arizona Memory Project, a series of online Arizona history resources housed on the State Library's website.
Musical entertainment and light appetizers will be part of the evening events.
"Over the last 100 years, there have been many Latina trailblazers who have worked to improve their communities and the lives of those around them," said Tony Moya, SRP's Manager of Latino Relations. "At SRP, we are proud to honor these four amazing women and their tireless work to enrich the lives of Arizonans."
Other sponsors are BlueCross/BlueShield of Arizona, Wells Fargo Bank, Cancer Treatment Centers of America, The Victoria Foundation, Chicanos Por La Causa, American Family Insurance. Community partners are YWCA and Girls Scouts Arizona Cactus-Pine Council.
About the honorees
Amanda Aguirre has dedicated most of her professional life to uplifting the health and welfare of families and people in the Yuma border region and beyond. As president and chief executive officer of the San Luis Walk-In Clinic and president/CEO of the Regional Center for Border Health, she has created a network of services for people who may otherwise go without health care. In 2003, she entered the political arena and became the first Hispanic and first female to represent District 24 in the State Legislature. She went on to be elected to the Arizona State Senate for that district, a seat she would hold until November 2010. Born in Agua Prieta, Sonora, Aguirre credits her parents, who were educators, with instilling a love for learning, a duty to give back and a strong work ethic to accomplish her dreams.
Anna Maria Chávez became the first person of color to lead the Girl Scouts of the USA when she was appointed to be the group's chief executive officer last year. A native of Eloy, Arizona, Chávez became the 19th person to lead the venerated organization. Her career started with undergraduate degree from Yale followed by earning a law degree from the University of Arizona. She's held high level positions in federal government for the Department of Transportation and Small Business Administration. She returned to Arizona in 2000 to work in state government and went on to serve on the staff of former Gov. Janet Napolitano, where she rose to become Deputy Chief of Staff. After Gov. Napolitano resigned to become Chief of Homeland Security, Chávez sought out a new opportunity as the Executive Officer of Girl Scouts of Southwest Texas, which eventually led to her current role.
Elizabeth Archuleta's career has been dedicated to helping others achieve their full potential and intellectual capacity. Her own career serves as role model for that work. At the age of 31, she became the youngest person to serve as a Coconino County Board of Supervisor in Flagstaff and the only Latina to ever hold a seat on the powerful board. It's an accomplishment that reflects the contributions she and her family have made to Northern Arizona and a tribute to her ancestors who settled in the area decades ago as one of the area's pioneering families. During her 19-year career at Northern Arizona University, she's established groups such as Hispanics Organizing for Youth, which replicated the first Hispanic Mother-Daughter program originally begun at Arizona State University; and established the Minority Access and Achievement Council, which brings business, industry and education together to address needs of minority youth.
Terri Cruz's life has been an incredible journey that has taken her from cleaning houses for close to two decades to a long career in social services, mostly with her employer of 31 years, Chicanos Por La Causa (CPLC). It's fitting that she worked for CPLC since she was a founding member of the organization, serving as one of its original board of directors. Her dedication to help her community and provide social services, job placement and meet other needs is commemorated in the CPLC complex with a building bearing her name: the Terri Cruz Social Service Center. She has served on numerous boards and advisory committees, including the Hispanic Senior Citizen Foundation Board, Maricopa County Community Service Commission and the Arizona Attorney General Senior Citizen Council.
Phoenix College is one of the 10 regionally accredited Maricopa Community Colleges.