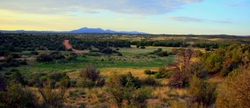 I've been pleasantly surprised
Prescott, AZ (PRWEB) July 7, 2009
Unreliable phone service and poor Internet connectivity can be frustrating aspects of rural life, leaving many to choose staying connected in an urban area over living where they can enjoy nature's beauty. Owners at LV Ranch Estates no longer have to make that choice or settle for substandard communication services. True West Companies is pleased to announce that Midvale Telephone Exchange (MTE) is now installing fiber optic-based high-speed Internet and phone service to its Northern AZ real estate development, bolstering an already impressive list of features.
MTE's network introduces traditional phone service for the first time and improves Internet speed, reliability and affordability over prior options. Previously, both were available through a satellite subscription service or local wireless broadband antenna system with varying connection quality and speed, depending on a home's position in relation to the antenna. The new network overcomes the issues by rolling out fiber-optic cable directly to each ranch property.
The network currently offers download speeds of 1 megabyte per second (Mbps) and is projected to increase to nearly 5 Mbps by the end of 2009. At those speeds, it will rival or surpass the speed of most networks available in metropolitan areas, and it still has plenty of room to grow. MTE Regional Manager, Dennis Farrington, predicts that it could one day see speeds of "50 Mbps or more as broadband access becomes increasingly important to our lives."
Fiber optic Internet and telephone service are an example of the state-of-the-art infrastructure elements that distinguish this Prescott Arizona property offering from all others. From gated entries and paved roads to underground electric and individual wells on each ranch estate, the 4,900-acre community was planned to preserve its pristine setting while offering owners every modern convenience. The developer, Peter Gooding of True West Companies, used his more than 20 years experience developing rural properties, including several similar ranch-style developments in Arizona, to create an environmentally sensitive, sustainable community of 120 ranch estates ranging from 36 to 51 acres each.
His experience is evident from the moment you enter the property. LV Ranch Estates' paved roads wind around hills and groves of pinon and juniper trees, rather than over or through them, and its underground electric lines further preserve the area's inherent beauty. LV Ranch Estates offers an authentic, unspoiled natural setting of lush meadows, rolling pinon and juniper covered hills, and rare groves of Arizona black walnuts.
And abundant vegetation can only mean one thing: plenty of water. LV Ranch Estates sits on an enormous aquifer. Each ranch estate's newly drilled well produces more than enough water for multiple uses such as irrigating pastures and vineyards, and supplying water for a private swimming hole.
Even though Arizona Public Service Co. (APS) provides electricity to all parcels, residents may opt to go off the grid and generate their own power through solar panels and other alternative means. LV Ranch Estates enjoys more than 300 days of sunshine a year and APS will pay residents for the power they generate above their household requirements.
Keeping with the eco-friendly design principles, the entire community has been fenced using cedar posts and stays harvested from trees cleared during road construction. The four-strand "cowboy" fence is built to work with their area's plentiful wildlife, which includes elk, deer, antelope and native javelina. Its lowest strand is not barbed to allow antelope to slip beneath unharmed, while elk and deer can easily leap over the top strand. The unobtrusive and authentic design maintains the natural aesthetic of the property and allows views of the beautiful surrounding Sullivan Buttes, Granite Mountain, and San Francisco Peaks.
At the entries, old-fashioned ranch fencing meets state-of-the-art electronic gates to keep the occasional wandering ranch animal in and unwanted visitors out. Wireless and keypad access allow owners to enjoy both convenient access and privacy. The new telephone system also permits easy linkage between home and gate to simplify access for visiting family members and friends.
Once inside the Arizona ranch land, LV Ranch Estates' generous 36- to 51-acre sites allow enough room for the most ambitious plans, while common sense development standards assure landowners their investment's value will endure for years. From off-grid, sustainable ranches to sophisticated equestrian estates, LV Ranch Estates' spacious parcels offer ample room for creativity without concern for conflicting tastes and styles.
In spite of the current economic downturn, LV Ranch Estates are selling quickly, with only about seventeen remaining available. "I've been pleasantly surprised," said Gooding. "Properties have been selling faster in these past four months than they ever have! People tell us we have a pretty irresistible combination of natural beauty, modern infrastructure, and land value. "
LV Ranch Estates is a Prescott, Arizona real estate development of True West Companies. To learn more about LV Ranch Estates, visit http://www.lvranchestates.com.
True West is a Scottsdale, Arizona-based company respected for its high-quality, rural residential projects throughout Arizona, including projects in Coconino, Yavapai and Maricopa Counties. For more information about True West Companies, please visit http://www.truewest.com.
###