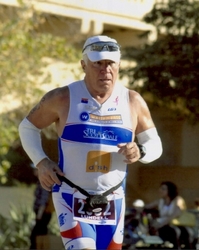 The Cure for Heart Disease.
Scottsdale, AZ PRWEB (Vocus) December 11, 2008
Retired heart surgeon Dwight Lundell gave himself the perfect 65th birthday gift. He placed first in his class at the Arizona Ironman competition (http://www.nasports.com/results/results.php) held in Tempe, Arizona.
His first place finish also qualifies him for the Kona, Hawaii Ironman competition. As an added bonus Dr. Lundell completed the course in less than thirteen hours with a time of 12 hours and 57 minutes.
Dr. Lundell gained notoriety lately with his new book "The Cure for Heart Disease." (http://www.thecureforheartdisease.net) In it he sites the latest medical research to argue against the conventional wisdom as to the cause and appropriate treatment of heart disease. It seems to be causing some controversy among the medical and drug company establishment, who may be out to discredit Dr. Lundell.
Dr. Lundell stated, "As I operated on hundreds of patients there was something nagging at me. They did not exhibit any of the established risk factors for heart disease. As I conducted more research into this anomaly, it became clear that the cause of heart disease is chronic low-grade inflammation and the cure is simple and inexpensive. My conclusions are highly disruptive to a multi-billion dollar industry but I don't particularly care, the research is valid and more of it is coming out every day."
Dr. Lundell preformed over 5,000 heart surgeries before retiring. He stays active with his training, writing and speaking engagements. He continues to fight against heart disease today as the founder of The Healthy Humans Foundation, (http://www.hhfound.org) a non-profit focused on open communication and education of health and wellness research and advocacy.
Dr. Dwight Lundell wants to help people achieve a quality of life. To that end he is offering his ground breaking book in hard cover at a 50% discount to anyone reading this release. Just click on this special link to order at the discounted price
(http://tinyurl.com/63y6rx).
He currently resides in Scottsdale Arizona and is on a mission to save lives. He is available for speeches, lectures and workshops to educate the general public. Companies, organizations or the media wanting the truth about heart disease and what can be done to avoid it can contact Dan Charles at 888-890-2873, option 3.
For additional information on Dr. Dwight Lundell or his book contact:
Dan Charles
The Healthy Humans Foundation
888-890-2873 Option 3
media@hshealthplan.com
###