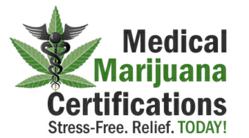 Arizona MMC is committed to the monthly video updates and offers certification services with the best clinic in Arizona.
Phoenix, AZ (PRWEB) May 13, 2012
Arizona MMC, the state's premier medical marijuana certification clinic, is now providing monthly video updates regarding the latest news on Arizona medical marijuana. The videos may be viewed on the Arizona MMC YouTube channel playlist.
Medical marijuana in Arizona has been legal since November 2010. The actual program was put into place beginning in April 2011. Since the program was implemented, Arizona MMC has been providing certifications for qualified patients to receive their Arizona medical marijuana card.
Arizona MMC is now providing a monthly video update regarding the program and the latest news and events concerning it. In addition, the videos discuss federal events on medical marijuana. There are currently 17 states who have legalized medical marijuana for various debilitating conditions, and approximately a dozen more have bills for legalizing medical marijuana in various states of progress.
Last year has seen a considerable amount of ups and downs for the Arizona medical marijuana program. For instance, the dispensary part of the program was placed into flux regarding a lawsuit by the governor of Arizona versus the Department of Justice, which has since been dropped. These issues and others are discussed in the monthly video updates from Arizona MMC. In addition, these videos relay specials on Arizona medical marijuana card certifications along with special offers from the Clinic such as newly announced walk-in appointments Monday through Friday from 10 a.m. to 5 p.m. with our Arizona medical marijuana doctors.
People who are interested in becoming an Arizona medical marijuana card patient should call 855-294-3227 for scheduling. The office offers free photo IDs as well as assistance with uploading all the documentation to the Arizona Department of Health Services. Also the office will obtain individual's medical records at no additional charge. Currently the office is offering $25 off of the regular price for patients obtaining a recertification.