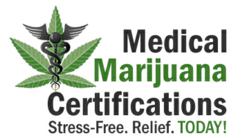 Medical Marijuana Certifications of Arizona will upload your application to the state and take your photo ID for no additional charge.
Phoenix, AZ (PRWEB) July 09, 2012
Arizona Medical Marijuana Certifications (MMC), the state's leading evaluation center for marijuana cards, is offering 40% off card renewal exams and 29% off primary evaluations. Individuals interested in obtaining an Arizona medical marijuana card should call toll free (855) 294-3227 for scheduling.
In order to obtain an Arizona medical marijuana card, patients need an in-person physical examination and review of medical records. Arizona MMC offers the best Arizona medical marijuana doctors and the clinic will also obtain medical records at no additional charge. In addition, the clinic will take patient's Photo ID's and help upload the state application to obtain the Arizona medical marijuana card – for free as well.
The complete evaluation normally costs $210, however, the 40% discount brings the cost down to $125 for the renewal and the 29% brings initial evaluations to $149, which is all inclusive. The discount applies to both initial evaluations and renewals.
The clinic is the most reputable certification center in the state with licensed, compassionate, and knowledgeable doctors. The office is extremely clean and the staff treats patients with respect. Walk in visits are accepted from 10am to 5pm Monday through Friday.
Patients will also receive a 90 page E-Book titled "Medical Marijuana in Arizona – the People Have Spoken", which contains a history of medical marijuana in the US and Arizona along with lots of chapters on the science behind marijuana for various medical conditions. The book normally sells for $10 online, but is free to patients.
Said David Greene, CEO of Arizona MMC, "We understand that suffering patients need cost-effective help from compassionate doctors. Our primary goal is to offer patients an all inclusive service at an all inclusive low price. If patients are offered a lower price for an identical service, we will match it – but there is no better certification center in Arizona."
Those interested in obtaining a medical marijuana card in Arizona for the first time or renewal should call toll free (855) 294-3227.