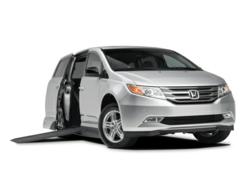 Phoenix, AZ (Vocus/PRWEB) April 12, 2011
Arizona Mobility Products isn't content to merely announce the release of the Honda Odyssey Model with VMI Northstar Conversion on their blog-they are now taking their customers inside the new van with an extended video tour produced by VMI.
The video presentation opens with a company consultant talking to a disabled man in a wheelchair. At first, he explains the features of the vehicle including a powerful engine (a V6 3.5 liter engine with 244 horsepower) and Variable Cylinder Management, which is new technology that saves gas mileage by switching from six-cylinder to three-cylinder when the motorist is driving at optimal fuel saving driving conditions. The consultant also reviews the Ace Body Construction technology of the vehicle, developed for reliability.
The salesperson then takes the driver-and the web audience-inside the vehicle, up the wheelchair lift's mechanism, and into the empty driver's side where the prospective buyer is shown the hand controls. The consultant also explains the rubberized flooring of the vehicle, which offers protection against dirt and debris, as well as enhanced durability.
It's easy to see that Arizona Mobility Products and Vantage Mobility are now bringing interactivity to their web marketing campaigns. The companies do have a relationship; Arizona Mobility Products is the retail division of Vantage Mobility International. Their shared intent is to sell wheelchair vans to the public, particularly targeting the local Arizona market.
The company is now inviting all physically-challenged individuals located in Phoenix, Mesa, Flagstaff, Tucson, and beyond to come test-drive handicap vans for a no obligation test drive and demonstration. Whether motorists are looking for wheelchair vans or wheelchair van parts, Arizona Mobility Products, as the company motto suggests, is "bringing mobility to you."
For more information on Arizona Mobility Products and their line of wheelchair vans, visit http://www.AMPVans.com/.
About Arizona Mobility Products: This Phoenix-based mobility supplier, working with Vantage Mobility among other manufacturers, has 16 years of experience in the industry. The company is a locally-owned mobility shop and sells new and pre-owned wheelchair conversion vans.
###