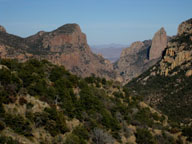 Portal, Arizona (PRWEB) January 31, 2012
What better place to celebrate two state's Centennials than the remote San Simon Valley east of Tucson, west of Las Cruces, very much still the frontier on the Arizona - New Mexico border. The Portal-based company Naturalist Journeys, a local guide service, and Cave Creek Ranch, a lodge that caters to birders, hikers and fans of history (natural and cultural), have teamed up to offer education in a relaxed setting. Sixty miles from a grocery store, owners Peg Abbott (Naturalist Journeys) and Reed Peters (Cave Creek Ranch) enjoy the challenge of developing a new Learning and Lodging Program that encourages locals to be involved in ecotourism. The region attracts retirees with expertise in many fields; they share this knowledge on five upcoming weekends: February 10-12, 17-19, 24-26 and March 2-4 and 9-11.
During Winter Weekends, local experts from Naturalist Journeys lead interpretive walks on Saturdays, at a leisurely pace with plenty of time to explore the Chiricahua's renowned biodiversity and spectacular scenery and to share stories of both state's beginnings. Sunday morning's learning options include a scenic drive with the theme "History on the Road to Paradise" or a skills session on the art of geo-caching. Winter Weekends include a two-night stay at Cave Creek Ranch, prized as a place to watch wildlife such Javelinas, Coatimundi; White-tailed Deer and many resident birds. All Learning and Lodging packages include two breakfasts, one dinner and a sack lunch packed for Saturday's outing, as well as $15.00 in CELEBRATE STATEHOOD bucks, good at local gift stores and galleries, including the fascinating Chiricahua Desert Museum in New Mexico, where live reptiles are on display.
Portal, Arizona and Rodeo, New Mexico, are separated by seven miles and the state boundary line which transects a portion of the wide San Simon Valley. The rugged Chiricahuas and Peloncillo mountains rim the valley, and within their shadows community ties run deep, a hundred years of history knitting the lives of its half-thousand residents together. Last June, when the Horseshoe Fire raged; eight-hundred firefighters doubled the local population for weeks as they worked together to tame the blaze. Seven months, and a lot of work and cleanup later – it's time to celebrate!
Why? Because New Mexico turned 100 on January 6 and Arizona will turn 100 on February 14, Valentine's Day. This year, in addition to the Learning and Lodging weekends, an annual event that brings people from far and wide, coincides. Portal Rescue's "Soup Kitchen" is a fundraiser for the fire department and rescue squads that serve both communities. It will be held February 13, 14, and 15 with special festivities planned for the 14th. In addition to a raffle, and sumptuous homemade fare, expect some statehood birthday fun – 11:30 AM to 1:30 PM daily. Those that wish to continue feasting can join "Portalites and Rodeoans" as they venture to the Portal Café for a special Valentine's dinner – filet mignon, salmon or Cornish game hens ($55 per couple: Call 520 558 2223 for reservations).
For information and registration please contact Reed Peters at Cave Creek Ranch (520.558.2334) info(at)cavecreekranch(dot)com; or the staff of Naturalist Journeys (520.558.1146) info(at)naturalistjourneys(dot)com.
###