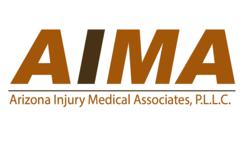 With 10 effective sciatica and back pain treatment options at AIMA, over 95% of patients avoid surgery, and most get back to work quickly!
Phoenix, AZ (PRWEB) February 28, 2013
The leading Federal and Arizona Workers Compensation pain doctor, Arizona Injury Medical Associates P.L.L.C. , is now providing ten effective treatments for the nonoperative management of sciatica and back pain. AIMA incorporates both traditional and alternative therapies to get patients out of pain, back on their feet, and back to work.
The Phoenix office has a Double Board Certified Medical Director, Dr. Demitri Adarmes MD, who has extensive expertise with interventional pain management, medication management and additional treatment options. The clinic accepts all forms of AZ Workers Compensation along with treating Federal injured workers (OWCP). Dr. Adarmes also treats personal injury patients, and those interested in treatment should call (480) 347-0941 for scheduling.
At any particular point in time, approximately 1% of Americans are affected by sciatica, and over 90% of the U.S. will experience low back pain during their lifetime. Sciatica leads to burning pain, a pins and needles type sensation, electrical sensations down the leg, numbness, and potentially muscle weakness.
Thankfully, with the treatments at AIMA, low back surgery for a pinched nerve is often not necessary.
Some of the therapies at Arizona Injury Medical Associates' clinic include:

Multiple different types of epidural steroid injections
Trigger Point Injections
Medical Acupuncture
Physical Therapy
Tens units
Narcotic medication management
Nonnarcotic medication management such as neurologic modifying agents, muscle relaxers, membrane stabilizers, tramadol and more.
With all of the options available, over 95% percent of those with sciatica and acute or chronic back pain are able to successfully avoid an operation. For more information and scheduling with the Valley's premier Workers Compensation doctor and Personal Injury Doctor, simply call (480) 347-0941.