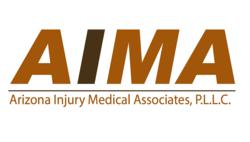 Dr. Adarmes has considerable expertise in both clinical treatments along with the administrative aspects of Arizona and federal injured worker claims.
Phoenix, AZ (PRWEB) November 15, 2012
The leading Arizona workers compensation clinic, Arizona Injury Medical Associates, P.L.L.C., is now offering over twenty effective pain treatments for injured workers. By providing individualized care to those who present with injuries sustained at work, the clinic has maintained an impressive track record with returning individuals back to the workforce. For more information and scheduling, call (480) 347-0941.
Arizona Injury Medical Associates, P.L.L.C. (AIMA) offers comprehensive treatment options to injured workers in Arizona along with federal employees such as postal workers, FBI agents and border patrol employees. Along with the treatments provided, AIMA's medical director and the staff are experts in handling OWCP impairment ratings, Disability Evaluations (SSDE) and Federal Disability Retirement Examinations.
The Double Board Certified Arizona Injury Doctor at the clinic, Dr. Demitri Adarmes, combines both traditional and alternative treatment options to maximize the chances of returning the injured worker back to his or her employment. Dr. Adarmes is a Certified ABIME Independent Medical Examiner for the 5th and 6th Edition AMA Guides.
The options available for treatment at AIMA include:

Medication management, including short term opiates, muscle relaxers, anti-inflammatories, non-narcotic pain relievers, and neurogenic medications such as Neurontin.
Injection options for pain relief such as epidural injections, joint injections (hip, knee, shoulder, SI jt, etc), facet or nerve root blocks, occipital blocks, trigger point injections and more.
Physical Therapy Services
Medical Acupuncture
By having so many choices with the available therapies, the premier Arizona injured worker clinic has typically been able to reduce pain significantly while restoring function at the same time. By having the extensive experience in both the clinical and administrative aspects of workers compensation care, injured workers are able to preserve "peace of mind" knowing both areas are being handled with expertise.
The clinic sees patients with a broad array of painful conditions including carpal tunnel syndrome, whiplash, shoulder bursitis, rotator cuff tendonitis, disc herniations, sciatica, low back pain, SI joint pain, tennis elbow and many other musculoskeletal conditions.
Along with handling workers compensation patients, Arizona Injury Medical Associates, P.L.L.C., also treats personal injury patients. This includes motorcycle and auto accident patients who need to receive care on a lien. Patients are often able to be seen within 48 hours.
To receive further information and discuss scheduling with the leading Arizona injury doctor, call (480) 347-0941.