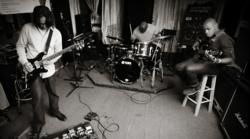 "This jamming band from New York will simply amaze and astound "- Where Y'At Magazine
New York, NY (PRWEB) July 11, 2013
Join ARJUN at Tammany Hall in NYC on Friday, July 26th as they celebrate the release of their newest album, "Space."
Discounted tickets are available at the following link: http://turnstylemusicgroup.com/event/258199/
ARJUN, a three-piece instrumental band from New York, delivers a fusion of rock and improvisational jazz with the release of their latest album, "Space." Made up of Eddie Arjun Peters on guitar, Lamar Myers on drums, and Andre Lyles on bass, the group has mastered the art of storytelling without words but with grooves, emotion and raw improvisation that leans on the avant garde, attracting a diverse group of fans. After signing with Pheromone Records in 2006, ARJUN released their debut album Pieces, which was met with critical acclaim. Their newest album, Space, is the first of a trio of recordings that they plan to release in the next year.
ARJUN has garnered comparisons to artists such as Charlie Hunter, Joe Satriani, and Stevie Ray Vaughn and presents a sound that fuses together the power of rock with improvisational jazz to produce tight grooves. ARJUN focuses on the art surrounding a trio of musicians. By strategically excluding any overdubbing or layering from their music, ARJUN has created a sound from which fans are easily able to gauge the communication and chemistry evident throughout Space as well as in their live performances, captivating audiences throughout the Northeast.
Space was recorded at Level 11 Studios in New York City, produced by Eddie Arjun Peters and mastered at Turtletone Mastering by Michael Fossenkemper (Medeski Martin & Wood, Soulive, Bootsy Collins). The album features legendary percussionist E.J. Rodriguez on the opening track, "Orion." E.J. has played with The Jazz Passengers, Sean Lennon, Medeski Martin & Wood, Karl Denson's Tiny Universe, Brooklyn Funk Essentials, Marc Ribot Y Los Cubanos Postizos, Dr. John, D.J Logic, John Cale, The Lounge Lizards, and many more.
You can learn more about ARJUN at http://www.arjunmusic.com.
For more information, images, or to arrange for an interview with ARJUN please contact Melissa Zeigler at Powderfinger Promotions: melissa(at)powderfingerpromo(dot)com
Powderfinger Promotions–Independent Radio Promotion and Publicity. Since being founded in October 1994, Powderfinger has come to be regarded as a top indie radio promotion and publicity firm with ties across North America.