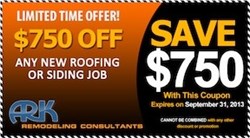 Our customers are our biggest asset, especially when they trust us with their biggest asset, their homes
(PRWEB) August 30, 2013
Ark Remodeling Consultants, a New York based company that started operations in the year 1989 and one of the most trusted home improvement companies on Long Island, NY, today announced the details related to $750 Discount they are offering for new roofing and siding jobs. The offer adds to the numerous other finance options and concessions offered by the company, such as Senior and Veterans Discounts, and 60 month 0% Financing Program
Speaking on the occasion Jim Daly, a representative of the company said, "We are excited to introduce a special discount of $750 for all new roofing and siding jobs. We want to help our clients have a house of their dreams and any improvements at a price that is quite affordable.
The discounts we are introducing today are a part of our efforts." - he further added, "Our Company has been in the contracting business for over two decades and we constantly provide expert roofing, siding and masonry services in the Nassau and Suffolk counties of Long Island, NY."
Some of the services offered by the company include Roofing, Complete Siding, Windows, Gutters, Exterior Renovations, Remodeling, Restoration and Masonry.
According to the sources, the top management of the company supervises each step of any project and that is the major reason behind the level of quality offered to our customers. Some of the other discount offerings by the company include Zero Percent Financing for a period of 60 months and Special Discounts for Seniors and Veterans
When contacted, Stefan, a client of the company, said, "I trust Ark Consultants. I used their services recently for renovating and improving my house. I am certainly happy with the results."
Ken Alberici, the owner of the company, said, "Our customers are our biggest asset, especially when they trust us with their biggest asset, their homes." He further added, "No matter where you live, we're just around the corner."
Sources also confirmed that the company is fully licensed and insured and has an A+ certificate from the Better Business Bureau.
About Ark Remodeling Consultants
Ark Remodeling Consultants is one of the most trusted home improvement companies on Long island, NY. The company started operations in 1989, and offers High Quality Roofing, Siding and Masonry Services in Nassau and Suffolk counties.
Contact Information
Contact Person: Ken Alberici
Contact Phone Numbers: 1-631-752-0323 - Suffolk, 1-516-593-6438 - Nassau
Email id: RoofingContractorsLI(at)gmail(dot)com
Website: http://RoofingContractorsLI.com
Address: ARK Remodeling Inc. 83 Rome St., Farmingdale, NY 11725 USA