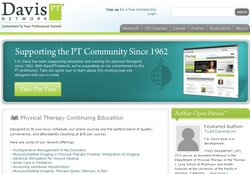 This new and exciting partnership between DavisPTnetwork and the Arkansas Physical Therapy Association enhances the access to and availability of peer-reviewed, affordable continuing education for PTs and PTAs in Arkansas
Philadelphia, PA (PRWEB) April 1, 2010
DavisPTnetwork — F. A. Davis Company's comprehensive professional information resource and social networking Web site for physical therapists (PTs) and physical therapist assistants (PTAs)—has partnered with the Arkansas Physical Therapy Association (ArPTA) to help physical therapy professionals fulfill their continuing- education (CE) requirements with state-approved courses that can be easily completed online.
"We're pleased and excited about our new partnership with DavisPTnetwork" says Becky Sewell, Executive Director of the Conway, Arkansas-based Arkansas Physical Therapy Association. "As a result this partnership, relevant continuing education courses are now more widely available to our members. Plus, our members can conveniently complete these courses online and on their own schedules."
Currently, DavisPTnetwork offers over 45 CE courses—representing more than 120 continuing education units (CEUs)—that are approved in Arkansas for PTs and PTAs. DavisPTnetwork's CE courses are also approved in all other states that currently require continuing education for PTs and PTAs.
"This new and exciting partnership between DavisPTnetwork and the Arkansas Physical Therapy Association enhances the access to and availability of peer-reviewed, affordable continuing education for PTs and PTAs in Arkansas," says Margaret Biblis, F.A. Davis Publisher, Health Professions/Medicine." According to Biblis, F. A. Davis' leading physical therapy textbook authors have developed DavisPTnetwork's online CE courses, providing an extensive selection of clinical content that is germane for today's physical therapy professionals.
Launched in February 2009, DavisPTnetwork provides PT professionals from around the world with a unique opportunity for social networking and professional collaboration, as well as online continuing education. Membership to the DavisPTnetwork to social networking community is free. Additionally, there is a wide range of affordable (starting at $45 per course), peer-reviewed courses offered at the site. With support available 24/7, PTs and PTAs can take these online CE courses at their convenience.
For further information visit DavisPTnetwork.com
Copyright © 2010 F.A. Davis Company
Your source for high-quality, market-driven products for the health-care community.
All Rights Reserved.
###