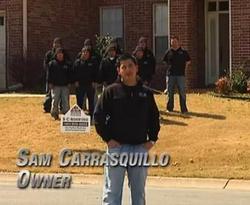 "SC Roofing is Arkansas' only EPA certified roofing company."
Little Rock, AR (PRWEB) October 9, 2010
SC Roofing is pleased to announce the creation of their new website: Arkansas Roofing Company.
"By using the best content management system available, SC Roofing is now on the cutting edge of Internet technology," said SC Roofing owner Sam Carrasquillo. "This new site makes it easier for us to publish important news and information in a timely manner."
The new site informs readers about the company, and even offers a web exclusive discount. The site was created in partnership with iProv, LLC of Little Rock. One major aspect of the new site is the use of Joomla, an open source software platform. Joomla eliminates the dependency on commercial software vendors who provide rigid frameworks with little room for customization. Joomla also allows the staff at SC Roofing to publish information to the site quickly and easily.
The site features a video of Mr. Sam Carrasquillo in his latest TV commercial. Visitors are then encouraged to read personal testimonials from highly satisfied customers.
SC Roofing is Arkansas' only EPA certified roofing company. Licensed and bonded by the state of Arkansas, SC roofing is also insured for $2 million. SC Roofing is a member of the Arkansas Chamber of Commerce and has an A+ credit rating from the Better Business Bureau. Home Depot and Lowe's have made SC Roofing their official installer for the state of Arkansas.
iProv LLC is an Arkansas web design and marketing company based in Little Rock, Arkansas.
Contact:
Sam Carrasquillo
501-859-6052
ArkansasRoofingCompany.com
###