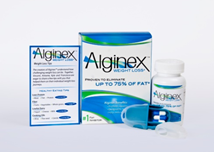 New York, NY (PRWEB) April 25, 2012
Arkis Biotec is pleased to announce the introduction of Alginex™ to the dietary supplement segment of the Nutraceutical Industry. Alginex's key ingredient, alginate, has been scientifically proven to inhibit fat absorption from digested food by up to 75%*. As a result, this proven fat inhibitor promotes weight loss without the use of stimulants, as supported in a recent University study conducted at Newcastle University in Newcastle, United Kingdom.
According to Dr. Ian Brownlee of Newcastle University, "The fat absorption associated with alginate is quite compelling." Such remarkable results are what led the research and development team at Arkis Biotec to use a proprietary blend of alginates to create Alginex™.
According to Dr. Kyle Pettersen, co-founder of Arkis Biotec, "Taking Alginex is a proven way to reduce fat absorption when consuming foods, which creates a caloric deficit that is essential for weight loss. It also acts as an appetite suppressant, creating a feeling of fullness during meals." If compared to other leading fat inhibitors such as Orlistat and Chitosan, Alginex™ is far more effective*.
Available online at http://www.alginex.com, Alginex™ Weight Loss from Arkis Biotec is also being marketed to the various segments of the dietary supplement industry and the company is actively seeking global distribution and retail partnerships in support of its market penetration efforts.
About Arkis Biotec, LLC
Arkis Biotec markets health products to the nutraceutical and pharmaceutical industry. Based in New York, NY, the company sells science-backed health products to the US and global marketplace. Arkis Biotec maintains locations in Florida, New York, and Texas. Please direct all inquiries to the Nutraceutical Business Development office at 516-849-7175 or 561-715-3397.
*These statements are based on the results of scientific studies conducted under controlled conditions using an artificial gut and are not evaluated by the Food and Drug Administration.