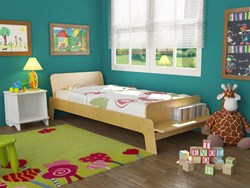 "The Arlo Twin Bed is a great first "big bed" for little ones, because it sits low to the ground. And I love being able to say "You can let your kids sleep easy, because you don't have to worry about harmful chemicals and fumes," says Carmen, co owner of
Louisville, KY (PRWEB) August 01, 2013
Modern Tots is an online retailer that offers modern children's furniture, among other items. Modern Tots in recent months has made part of their strategy to develop their own furniture designs and produce them out of eco-friendly materials, which are free of harmful chemicals. They have just added a platform twin bed, called the Arlo Twin Bed.
The Arlo Twin Bed is the newest addition in furniture by Modern Tots. It has a sleek modern design and sits low to the ground as a platform bed. It has a shelf at the foot for storing nighttime necessities or for using as a bench to get dressed on. And like the other exclusive items like their train table by Modern Tots, the Arlo Twin Bed is made of Birch wood using non-toxic materials and low VOC finishes. Additional items are underway to be added to the Arlo line, including a table and chair set.
"The Arlo Twin Bed is a great first "big bed" for little ones, because it sits low to the ground. And I love being able to say "You can let your kids sleep easy, because you don't have to worry about harmful chemicals and fumes," says Carmen, co owner of Moderntots.com.
Moderntots.com has been under new ownership since 2009 and focuses on modern furniture design for little ones, but they offer many other modern children's items. They pride themselves on personal customer service and quality.