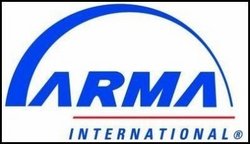 (Vocus) May 2, 2008
The 2nd annual ARMA International E-Discovery and Beyond Seminar has successfully concluded. The two-day, interactive event was held in New York City on March 31 – April 1 and was filled with education targeted specifically toward collaboration teams and professionals who manage records and information.
Attendees divided their time between networking with other professionals and attending sessions that sharpened their skills related to risk management, cost control, information governance, and compliance. Sessions focused on aligning the RIM, Legal, and IT departments with a focus on understanding how each compliance team must work together more effectively.
ARMA International wants to thank the corporate sponsors who helped to make the event such a great success: CA, FTI Consulting, IBM, LexisNexis Applied Discovery, NextPage, and TAB. Additional thanks to our association partner, the International Legal Technology Association (ILTA) and to those who provided sponsorship for participant luncheons: HP Invent/Clearwell and FIT Consulting.
Information about ARMA International's E-Discovery and Beyond Seminar is available at http://www.arma.org/ediscovery .
53rd Annual ARMA International Conference & Expo – Save the Date
The next scheduled live educational event is ARMA International's 53rd Annual Conference and Expo in exciting Las Vegas, Oct. 20-23, 2008. Attendees from the fields of records management, information technology (IT), legal, health care, government, business, are invited to take advantage of this premier educational event that will take their careers and organizations to the next level in information management.
The conference features more than 80 educational programs presented by experts in the legal, IT, and records and information professions. These visionaries will cover topics such as how to make information management best practices part of your organization and will provide solutions, tools, and ideas for the issues facing businesses today.
Registration for the 53rd Annual Conference & Expo will begin June 2 at http://www.arma.org/conference.
About ARMA International
ARMA International (http://www.arma.org)] is a not-for-profit professional association and the authority on managing records and information. It is known worldwide for setting standards and best practices, and for providing comprehensive education, publications, and information on the efficient maintenance, retrieval, and preservation of vital information created in public and private organizations in all sectors of the economy. Formed in 1955, ARMA International is the oldest and largest association for the records and information management profession with a current international membership of more than 11,000. It also publishes the award-winning Information Management Journal.
Contact:
Ashley Flynn
ARMA International
913.312.5561
aflynn @ arma.org
# # #