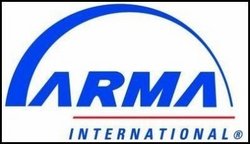 (Vocus) September 13, 2007
More than 200 of the records and information management industry's top exhibitors will be in attendance at ARMA International's 52nd Annual Expo at the Baltimore Convention Center in Baltimore, Maryland showcasing their cutting-edge technology and products October 7-9, 2007.
The Expo will feature the latest trends and newest releases in technology and services for managing records and information. The exhibitors will display the latest in compliance solutions, records management software, e-discovery solutions and much more.
Also on the expo floor this year, at no additional cost, ARMA International will be offering educational sessions featuring discussions covering the latest applications, trends, and technology solutions for managing records and information. These sessions include: the Industry Intelligence Pavilion, the Vertical Market Presentations and Exclusively IT Sessions. Those who attend the Exclusively IT Sessions will have the opportunity to win one of four $100 Visa gift cards.
Attendees will have the opportunity to visit the Government Solutions Showcase, with information geared toward information management in a government setting. Additionally attendees can network with approximately 5,000 information management professionals from all over the globe.
Pre-registered full-conference attendees can enter for a chance to win one of three cash prizes worth up to $1,500. Game rules are available at the conference.
To register today for the expo pass visit http://www.arma.org/expo (a $75 value) Free!
About ARMA International
ARMA International (http://www.arma.org) is a not-for-profit professional association and the authority on managing records and information. Formed in 1955, ARMA International is the oldest and largest association for the records and information management profession with a current international membership of more than 10,000. It provides education, publications, and information on the efficient maintenance, retrieval, and preservation of vital information created in public and private organizations in all sectors of the economy. It also publishes the award-winning Information Management Journal.
Contact:
Ashley Flynn
ARMA International
913.312.5561
# # #