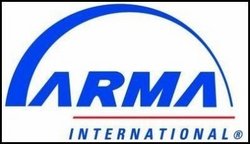 (Vocus) March 6, 2008
ARMA International is pleased to announce the release of the greatly anticipated RIM Self-Assessment. The RIM Self-Assessment effectively creates a roadmap to help information management professionals as they navigate their career paths. Upon completion, participants will be given a Gap Analysis and find career advancement tools that will help them to build a professional development plan and select from available resources to help them manage their professional development.
The assessment is based on the ARMA International RIM Core Competencies, which detail the knowledge and skills needed to successfully manage records and information. The competencies are designed to give individuals and organizations insight into the knowledge and skills needed to successfully manage records and information.
The RIM Self-Assessment is designed for participants to:

Highlight areas of strength
dentify the skills and knowledge needed for success
Develop goals for improvement
Conduct a Gap Analysis to assist with career planning
Identify recourses available for advancement
The ARMA International RIM Self-Assessment is available now exclusively to ARMA International members without charge at http://www.arma.org/competencies. For more information on the self-assessment or the RIM Core Competencies, visit http://www.arma.org/competencies.
About ARMA International
ARMA International (http://www.arma.org) is a not-for-profit professional association and the authority on managing records and information. It is known worldwide for setting standards and best practices, and for providing comprehensive education, publications, and information on the efficient maintenance, retrieval, and preservation of vital information created in public and private organizations in all sectors of the economy. Formed in 1955, ARMA International is the oldest and largest association for the records and information management profession with a current international membership of more than 11,000. It also publishes the award-winning Information Management Journal.
Contact:
Ashley Flynn ARMA International
913.312.5561
# # #