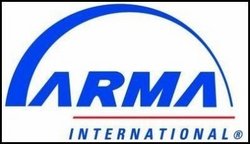 2009 Records & Information Management Survey
(Vocus) March 27, 2009
ARMA International's "2009 Records & Information Management Survey" shows an apparent disconnect between information management issues deemed important by the organization (as demonstrated either through policy creation or perceived corporate culture) and training and monitoring of the adherence to those policies.
The ARMA International "2009 Records & Information Management Survey" was sent to ARMA International's membership of 10,011, with 841 completing the survey for a response rate of 8.4%.
Respondents to ARMA International's "2009 Records & Information Management Survey" were asked to analyze their organization's total information management landscape in order to get a snapshot of current information practices as they relate to general management, policies and procedures, information management training, information technology, and legal / compliance.
Building the Foundation for Success
Organizations see proper information management, including data security and data privacy, as important aspects of the organization's core function. Key policies and procedures are being created to address these issues. Organizations are also increasingly turning to the resources of ARMA International's standards and best practices as they develop these policies.
The results of this survey seem to suggest:

73% of boards of directors or comparable high-level executive teams have approved a records and information management policy statement that obligates all employees to create and maintain records in accordance with the organization's stated requirements
61% of an organization's executive management, through its actions, demonstrate the importance of managing records and information.
Organizations currently have policies in place that address records management issues, such as electronic records and e-mail (71%), legal holds (71%), information security (72%), privacy (72%), and physical records (88%).
Organizations are increasingly adopting a standards-based approach to developing information management policies and procedures. Fifty-five percent (55%) of organizations use ANSI/ARMA or ISO standards to develop vital records programs, and 89% of organizations use standards to develop retention policies.
52% of organizations report encrypting all sensitive data and personally identifiable information stored in and transmitted from their primary systems.
Training Issues Continue to be a Weak Area for Organizations
A company's information is arguably the most important asset they have. Managing and protecting that information is a crucial part of business process as it helps to keep costs and risks low, as well as keeping competitiveness and compliance a top priority.
Each employee plays a part in protecting their organization by managing their own sensitive data. However, it is each organizations responsibility to provide the training necessary to ensure employees are aware of policies and procedures related to RIM.
Still, training continues to be a significant downfall in this process:

Only 25% of organizations train their employees on individual roles and responsibilities for managing records and information.
Organizations that do offer training do not cover many of the important and legally discoverable issues, including instant messaging (78% not covering), voice mail (72%), removable storage devices (58%), wireless handheld devices (69%), and text messages (77%). Only 60% of organizations specifically train employees about their legal holds process.
22% of organizations do not train employees about data security or protection of sensitive data, even though 87% of organizations rate data security as an important issue, with 91% placing a high priority on securing client data and personally identifiable information.
Only 27% of organizations have a formal marketing / communications program in place to communicate the value of records and information management to the organization's employees. This communication is a key check on the implementation of enterprise-wide compliance with policies.
Legal Discovery Still an Issue
High profile judgments against well-known companies have punctuated the notion that companies have an obligation to preserve e-mail and other records that may be necessary for litigation. When information is managed poorly it can cost companies millions - even billions - in fines and sanctions.
These difficulties can be seen as a symptom of an underlying problem of poor information governance and a lack of training and oversight of existing, solid policies. As an illustration:

Only 25% of organizations feel very confident they could respond appropriately to a legal discovery request.
When asked how effective their overall records and information management program is, 42% placed it on a scale above being "somewhat effective." In the same group, only 19% could say the same about their electronic records program (including e-mail).
When conducting IT strategic planning, less than half (48%) of strategic planning teams include records and information management professionals in the process.
61% of organizations do not monitor employee adoption and adherence to records and information management policies and procedures.
With educated employees and recognition of the importance of RIM, organizations can be sure they are better protecting their information and performing in faster and more cost effective ways.
For more information about RIM and how to help your organization, visit http://www.arma.org.
About ARMA International
ARMA International (arma.org) is a not-for-profit professional association and the authority on managing records and information. It is known worldwide for setting standards and best practices, and for providing comprehensive education, publications, and information on the efficient maintenance, retrieval, and preservation of vital information created in public and private organizations in all sectors of the economy. Formed in 1955, ARMA International is the oldest and largest association for the records and information management profession with a current international membership of more than 11,000. It also publishes the award-winning Information Management magazine.
The ARMA International Records & Information Management Survey was given to ARMA International's professional membership of 10,011 in March 2009, with 841 completing the survey for a response rate of 8.4%. The 841 respondents were representative of ARMA International's North American membership base with professionals across many sectors of the economy and at a diverse sample of organization size. An executive summary of the 2009 survey can be found at http://www.arma.org/research/arma.cfm.
Contact: Ashley Flynn ARMA International
913.312.5561
# # #