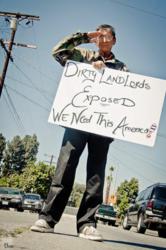 "Dirty Landlords Exposed " will do to dishonest landlords what
"America's Most Wanted " does to criminals ... put a stop to them !
Los Angeles, California (PRWEB) May 31, 2012
Meet Marty Usanis, a Los Angeles resident that lived in deplorable living conditions for three years. On May 8, 2012 she filed a lawsuit against LADWP (IN PRO PER) for termination of Utility Services and Negligence. According to the lawsuit filed in Los Angeles Superior Court(BC484210); the Los Angeles Health Department pursued her landlord, but to no avail. Her story has been documented on the reality TV series "DIRTY LANDLORDS EXPOSED" and KCAL-9 News with Leyna Nguyen. The lawsuit also states before the segment aired, her landlord had her services turned off due to non payment.The Health Dept. was called and they ordered the landlord to have the services turned back on within 24hrs. The Health Dept. also instructed Ms. Usanis to contact LADWP to have the services turned back on in her name. Based on the facts stated in the lawsuit; the landlord never turned the water back on and LADWP wouldn't allow Ms. Usanis to turn any services back on because of what her landlord owed. Marty Usanis lived without water from October 13, 2011 to March 22, 2012 --- a total of four(4) months and two(2) weeks according to the lawsuit. The Health Dept. submitted her case to the City Attorney's Office,according to health inspector Yolanda Frank.
Meet Andre P. Brooks Sr. and Lawrence Anderson, roommates living in a boarding house in Los Angeles, CA. Andre is a single father raising his son. According to Andre Brooks, "in an illegal attempt to evict them;the landlord has turned off their gas, and electricity since 4/3/2012. After the utilities were cut off the landlord had his assistant call child services on Andre in an effort to have his child taken away".
Meet Leandra Middlebrook a resident from Columbus, Ohio who lived in deplorable living conditions for 5 years. According to Leandra's You Tube video titled (Columbus Park Apts. Columbus, Ohio) "she lived with animal feces, dead flies, cobwebs, dust, dirt, holes in the walls, and mold". Ms. Leandra says" she is experiencing breathing problems due to the large amount of mold spores circulating in the air of her apartment". In April 2012, Ms. Leandra moved out of her apartment.
Nearly 8,000 miles away, residents of the United Kingdom (UK) are experiencing the wrath of rogue landlords.Rogue landlords is a term used in the UK to describe unscrupulous landlords. Landlords who harass, illegally evict their tenants, run security deposit scams, or keep their buildings in deplorable living conditions are rarely prosecuted; (according to BenReeve-Lewis author of the "The Battle against Rogue landlords Is Flawed"). Violent assaults and lock changes by landlords who have no intention of following due process are very common in the UK. Oftentimes it is the police who help the landlord to illegally evict the tenant, (according to Ben Reeve- Lewis).
If these buildings were restaurants they would be shut down immediately. As stated by Executive Producer Armani Terrell,Dirty Landlords Exposed serves as an advocate for renters who are being taken advantage of and who may not know their tenant rights."The fact is there are countless Marty's all over the world", says Executive Producer Krystal Nahabedian. "Enough of the red tape and costly litigation ! This program will do to dishonest landlords what "America's Most Wanted " did to criminals ... put a stop to them!"
Dirty Landlords Exposed
@DIRTYLANDLORDS