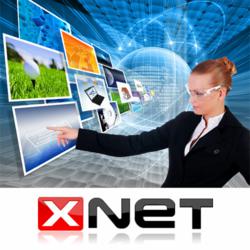 Yerevan, Armenia (PRWEB) February 04, 2013
Increase Website Traffic by 150-300% with xNET.am
xNET.am, an Armenian Traffic Exchange Network, has established a reputation and regular visitor base that has resulted in traffic increases of 200-300% for its member webmasters. This network was created by Ludwig Makhyan and Viktor Mamyan, two friends who now have more than a decade of experience developing websites together. The duo wanted to offer Armenian webmasters an option to market their sites for free to fellow Armenians across the globe.
How xNET.am's Traffic Exchange Network Works?
Webmasters who add their sites onto xNET.am are able to increase traffic to their websites by trading banners, links, photos, news articles and blog posts with other webmasters. This effectively draws traffic from interested visitors who see that a webmaster has recommended a link from another website on the exchange.
User Statistical Data
Search analytics data at xNET.am has revealed that many visitors of the network are interested in entertainment and news-related information. This includes blog posts, articles and even photos that are posted by the Armenian website owners.
Approximately 10% of visitors to xNET.am access the network via mobile devices. The most popular sites found on the network include Status4ka.am, ArmBlog.net, ArmenianPortal.com, Mrutik.com, Recipes.am and MyBaby.am.
Since xNET.am was launched on May 5, 2011, 35.5 million visitors and 17.8 million unique visitors have visited the network. Most of these visitors spend approximately 25 minutes viewing and reading 4-5 pages, totaling more than 164 million page views. In addition, nearly 1 billion banners have been shown on the network, and the number grows with 20 ads shown every second.
3000 different Armenian websites take part in the traffic exchange at xNET.am, adding 22,000 total news articles to the network. 83.88% of the visitors to the network are from Armenia, followed by 6.19% from Russia. Other visitors originate from the Ukraine, United States and France.