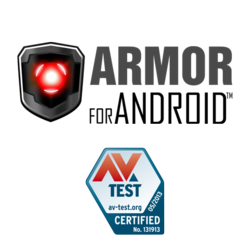 Our goal has always been to provide the highest quality Android antivirus solution, and having AV-TEST certify our application validates our mission
(PRWEB) June 17, 2013
AV-TEST Institute, the leading international and independent service provider in the fields of IT security and anti-virus research, announced today that it has certified Armor for Android with a malware detection level of 98% and zero false positives. AV-TEST, in comparing Armor for Android with 29 other Android antivirus products, found Armor for android to have the most features of any tested security product.
"We are very excited for the results that we saw from AV-TEST," said Chris Walbom CEO of Armor for Android, "Our goal has always been to provide the highest quality Android antivirus solution, and having AV-TEST certify our application validates our mission."
All products analyzed by AV-TEST are tested in terms of their performance in the categories of Protection and impact on the Usability. AV-TEST also looks at additional security features that are provided. Mobile Security Products receive a certification that provides evidence of their security as confirmed by AV-TEST.
Aside from its award winning Android antivirus capabilities, Armor for Android offers a variety of features, including Cloud Backup for your photos, videos, and contacts, Signal Booster to help strengthen your signal, and Phone Finder which will help locate or lock your device if lost or stolen, among many other features.
To read more about AV-TEST test results please click here, and to learn more about how you can protect your Android phone along with variety of other features please click here to learn more about Armor for Android.
About Armor for Android: Armor for Android was founded on the ideal of providing complete mobile protection to consumers across the globe. As we saw the rapid growth of Google's Android operating system, we knew that the world was and is rapidly headed to a future where literally billions of its citizens will be carrying an Android device and be completely trusting of it with the most important aspects of their life. The security and digital protection of those users and their data is our highest priority.