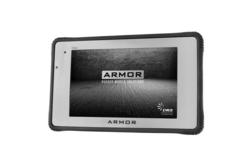 With a more compact form factor, the option for the Android operating system, and a competitive price point, we expect these new ARMOR computers to appeal greatly to the growing needs of our highly mobile customers.
Chandler, AZ (PRWEB) July 10, 2012
Group Mobile, well known for carrying the top brands in rugged laptops, rugged tablet PCs, rugged PDAs, and rugged handheld computers has recently extended its product offerings to include the newest ARMOR™ rugged tablet computers from DRS Technologies. The ARMOR™ X7ad and the ARMOR™ X7et are new, thin, lightweight tablets based on customers requesting even more portable computers from DRS. These sleek, 7" multi-touch tablets break the perception of bulky, rugged computing and offer field service workforces the ability to choose between the fast-growing Android™ operating system and the enterprise-friendly Microsoft® Windows platform.
"DRS' ARMOR™ products have always been very popular among our customers because of their outstanding durability and reliability, as well as DRS' years of experience in developing mobile solutions for public safety, field service, transportation, manufacturing, and other industries," said Stephanie Kreitner, Marketing Director for Group Mobile. "With a more compact form factor, the option for the Android operating system, and a competitive price point, we expect these new computers to appeal greatly to the growing needs of our highly mobile customers."
"Group Mobile is recognized for its rugged computing expertise and customer knowledge. We're pleased that the company has expanded its product offerings to include the latest ARMOR™ rugged mobile computers, which not only will benefit their loyal customer base but also reinforces the strength of our partnership," said Mike Sarrica, president of DRS Network and Communication Solutions.
The DRS ARMOR X7et is a Windows-based tablet that weighs just under 1.5 lbs and provides six hours of battery life. It features an Intel® Atom™ processor and runs Microsoft Windows 7 Professional. Its Android counterpart, the DRS ARMOR X7ad, weighs 1.3 lbs. and operates for up to eight hours. It features a NVIDIA® Tegra™ 2, 1.0Ghz dual core processor and operates on Android v3.2. Both lightweight tablets feature a 7" outdoor-readable multi-touch display. They are certified to MIL-STD 810G for extremes in temperature, vibration, shock and four-foot drops and have an IP65 rating for ingress protection, which means they are fully protected against dust and can withstand low pressure jets of water from all directions.
Additionally, Group Mobile is now offering DRS' new convertible tablet, the ARMOR™ X12kb. It is the lightest convertible tablet in the marketplace that meets MIL-STD-810G. Weighing only 5.5 lbs., it features a 12.1" sunlight-readable swivel touch-screen that incorporates polarized LCD glass and anti-reflective technology. The ARMOR™ X12kb offers the Intel Core i5 processor and runs Microsoft Windows 7 Professional. It has a long battery life, operating for up to eight hours, as well as a spill-proof keyboard and touchpad. In addition, the one-click stealth mode operation disables all emitting light and sounds, a feature that is designed for the unique applications of covert operations.
To learn more and order the new DRS ARMOR™ rugged computers, visit http://www.groupmobile.com/brand.asp/mf_id=68/DRS.html, or call toll free 866-784-4338.
About Group Mobile
Headquartered in Phoenix, AZ, Group Mobile serves customers all over North America. Customers range from Fortune 500 companies and the U.S. Military, to local police/fire/ambulance, to small and mid-size businesses, to the frequent traveler that needs something more durable than a commercial, off-the-shelf computer. Group Mobile carries the leading rugged computing brands. In addition, Group Mobile offers vehicle docking and mounting equipment from Gamber Johnson, Ram Mounts, and Havis/Ledco. To learn more about rugged computers and how they differ from commercial, indoor computers, check out the Rugged Computer Guide or visit us online at http://www.groupmobile.com.
About ARMOR™
ARMOR™ Rugged Mobile Solutions from DRS Technologies combine real-time advanced computing and communications technology with MIL-STD durability and reliability. Based on more than 25 years of experience developing military computer systems and industrial tablets for the harshest real-life working conditions and environments, ARMOR fully rugged tablets are certified to survive the harmful effects of dust, sand, glare, moisture, impact, temperature extremes, vibration, and more. They enhance the productivity of mobile workers in field service, heavy industry, energy, manufacturing, construction, transportation, public safety, homeland security, and the military, among other industries. For more information, please visit http://www.drsARMOR.com.
DRS Technologies is a leading supplier of integrated products, services and support to military forces, intelligence agencies and prime contractors worldwide. The company is a wholly owned subsidiary of Finmeccanica SpA (FNC.MI), which employs approximately 70,000 people worldwide. For more information about DRS Technologies, please visit the company's website at http://www.drs.com.