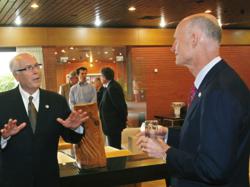 "In a period of economic recession, Armour Group has been able to bring high-paying manufacturing jobs to Broward County. It is rewarding to see our products protect lives in high-risk zones around the world."
CEO Armour Group Robert Tatum
Fort Lauderdale, FL (PRWEB) December 22, 2011
Armour Group, Inc. designs, fabricates, and manufactures armored vehicles, up-armor kits, and ballistic glass entirely at its facilities in Fort Lauderdale, Florida. Armour Group provides these products for military, law enforcement, and civilian use. Armour Group serves international customers and governments including the US Armed Forces, their various key subcontractors, the United Nations, and numerous commercial companies.
Armour Group is a licensed defense contractor and is a U.S. State Department International Traffic in Arms Regulation (ITAR)-licensed manufacturer and exporter, and an ITAR-licensed arms broker.
Last week, Florida Governor Rick Scott and representatives from Enterprise Florida flew to Israel to continue the mission of improving Florida's economy. The goal of the trip was to strengthen ties between Florida and Israel.
The CEO of Armour Group, Mr. Robert Tatum, met with Governor Rick Scott and Enterprise Florida representatives at IAI headquarters. Armour Group has formed a teaming agreement with Israeli Aerospace Industries (IAI). This agreement is a prime example of international business development Florida is fostering.
IAI is Israel's prime aerospace and aviation manufacturer. IAI also designs and builds fighter aircraft, mid-sized business jets, and maintains foreign-built military and civilian aircraft. The company also works on a number of missile, avionics, and space-based systems.
Armour Group and IAI are jointly developing new products, have reciprocal manufacturing agreements, and cooperatively sell each others' products.
When asked how the IAI-Armour Group relationship was benefiting Florida, Mr. Tatum responded, "In a period of economic recession, Armour Group has been able to bring high-paying manufacturing jobs to Broward County. It is personally and professionally rewarding to see our products protect lives in high-risk zones around the world and that we are contributing to the economic well-being of Florida's citizens at the same time."
By all indications, 2012 is projected to be an even better year than 2011 for Armour Group, with orders for armored vehicles, up-armor kits, and ballistic glass on the upswing.
Armour Group, Inc.
350 E. Las Olas Blvd Suite 800
Fort Lauderdale, FL 33301
Contact Information
Tel: 954 767 2030
Email: fgalloway(at)thearmourgroup(dot)com
###