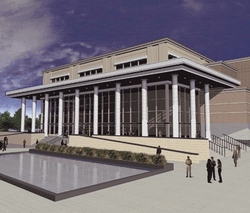 the Carnegie Hall of the West Coast.
Edmond, OK (PRWEB) January 10, 2008
With a golden shovel, Armstrong International Cultural Foundation Chairman Gerald Flurry officially broke ground on the foundation's new performing arts center in an outdoor ceremony Sunday, January 6 in north Edmond. The 800-seat concert hall, to be named Armstrong Auditorium, will serve as a worship center for the Philadelphia Church of God's headquarters congregation in addition to housing the foundation's performing arts series.
The Armstrong International Cultural Foundation is a non-profit, humanitarian organization sponsored by the Philadelphia Church of God, headquartered on the Herbert W. Armstrong College campus in north Edmond. The hall -- which is expected to cost $15 million -- will sit on the southern end of the college campus just north of Waterloo Road to the east of Bryant Avenue.
The new performing arts center has been designed by the Oklahoma City-based firm Rees Associates, Inc. Its resume is impressive: the tallest building in Dallas, the commanding Rose State College Performing Arts Center just east of Oklahoma City, Black Entertainment Television's corporate headquarters, FBI buildings throughout the U.S., and even a health-care facility in Istanbul, Turkey.
Armstrong Auditorium provided unique challenges for Rees architects -- designing a world-class facility for a relatively rural area. The auditorium will rest on the campus's most topographically interesting land -- with a terraced hill leading down to the three-acre, spring-fed Spurlin Lake. In order to make the building of the finest quality -- the highest caliber materials, acoustics -- as well as to be able to host the greatest performers from all over the world, the foundation decided its performing arts center must not be too big.
Some of the most reputable names in acoustical engineering have high hopes for Armstrong Auditorium. Consulting on the plans were Ron McKay and Dave Conant of the acoustical firm McKay Conant Brook in California. McKay was an acoustical engineer for the legendary Ambassador Auditorium in Pasadena, Calif. during its planning stages. The Ambassador's incomparable acoustics earned it the title, "the Carnegie Hall of the West Coast."
McKay's colleague, Dave Conant, expects Armstrong Auditorium to potentially exceed Ambassador's excellent acoustics with a more ideal reverberation time. Additionally, since the Armstrong Auditorium will be smaller in seat count, it will be "more intimate acoustically and visually" than Ambassador, he said.
The ratio comparing the volume of the hall to each seat will be more ideal at Armstrong Auditorium than Amsterdam's Concertgebouw, Boston's Symphony Hall, and Vienna's Musikverein -- the three standards engineers use to compare acoustic quality.
Construction is expected to take 22 months and the grand opening is scheduled for late 2009 or early 2010.
###