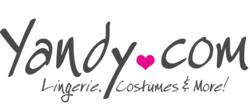 PHOENIX, Ariz. (PRWEB) September 09, 2012
Yandy.com, online retailer of sexy Halloween costumes and lingerie, has seen an increase, this pre-Halloween season, in the sale of military and army costumes. With movies like, "Act of Valor" and a strong sense of patriotic pride as of late, it is no wonder these active duty costumes are popular this 2012 Halloween season.
Army costumes are generally a hit at Yandy, and this year is no exception. Yandy carries nearly 60 military and army inspired costumes and adds new costumes to the collection almost daily. New costumes like the USO Girl which includes a camouflage green tutu dress and matching hat and the Combat Camo Chick which features a camouflage print romper are leading the pack for women looking to pay homage to America's soldiers.
New 2012 costumes are not the only ones gaining momentum this Halloween. Past favorites like the Sempre Fi Sweetie, which nods to the marines, features a blue pleated mini dress with military metal appliqués, and the women's "Top Gun" inspired flight suit dress complete with aviators, which applauds the air force, are quickly becoming Halloween party staples.
Not only are there so many military costumes to choose from, whether it is army, air force, navy or marines, Yandy shoppers also receive free, flat rate shipping on orders over $70 and every order receives a free panty.
About Yandy.com
E-commerce is on the rise and Yandy.com is one of the largest online retailers of lingerie, sexy Halloween costumes, swimwear and clothing on the web. Founded in 2003, Yandy boasts more than 6,500 products always in stock at easily affordable prices. Yandy ensures that every customer will receive a safe, secure and private online shopping experience and is backed by COMODO online security and Google Checkout. Yandy is dedicated to customer service and only sells what is in stock which allows for quick, same day shipping. Offering the highest quality products at the most affordable prices in the market, Yandy has become a leader in ecommerce. Yandy works closely with all of the manufacturers they distribute for and hand select all of the items on the Web site to ensure customers have the largest and most diverse collection to choose from. In addition, the customer service team at Yandy is unrivaled. With attentive and helpful operators, should a question or problem arise, the customer service team at Yandy is always willing and able to assist. At Yandy, every customer can Be Sexy.
###