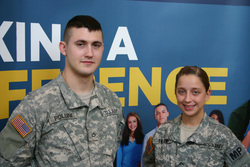 I thank the National Guard for its commitment to helping young people reach their educational and career goals. It takes all of us, elected officials, school leaders, community members, and employers like the National Guard to play a role.
Philadelphia (Vocus) December 3, 2010
Along the same streets and alleys that Benjamin Franklin organized the first defense force of National Guard Soldiers in Pennsylvania against French privateers and Indian raiders, the Pennsylvania Army National Guard showed up in force to help battle a growing national threat -- the dropout crisis.
Philadelphia Mayor Michael Nutter, who hosted the 22nd Annual National Dropout Prevention Network Conference at the Loews Philadelphia Hotel, November 14-17, said the city's partnership with the Army National Guard is essential in order to help increase graduation rates here and around the country.
"I thank the National Guard for its commitment to helping young people reach their educational and career goals," Nutter said. "It takes all of us, elected officials, school leaders, community members, and employers like the National Guard to play a role."
Philadelphia's graduation rate has increased from 55 to 63 percent since Nutter took office in 2008. Nutter said the Philadelphia School District's Strategic Plan, Imagine 2014, includes reforms such as reducing class size, increasing counselors in middle and high schools, and creating additional educational options for students who have dropped out and wish to return to school. "This increase marks clear progress, but we clearly have more work to do," Nutter said.
With strategic partnerships like the Army National Guard, Nutter plans to increase the city's graduation rate to 80 percent by 2015. He said for every student who finishes high school in Philadelphia, the local state and federal governments will save approximately $580,000. "The education of Philadelphia's young people and adults is closely tied to the economy of our city and the safety of our neighborhoods," Nutter said. "There is no doubt that investing in education pays off for everyone in the short and long term." He also added that better educated young people are less likely to perpetrate or become victims of a crime.
Representatives from the Pennsylvania Army National Guard Recruiting Team from Philadelphia provided audio and video support for the entire conference and facilitated the conference staff throughout the week. Philadelphia Recruiting Team Leader, Master Sgt. Lee D. Page, said his team provided the conference staff with approximately 18 digital projectors and 10 Soldiers per day for technical set up and assisting presenters at the conference.
Command Sgt. Maj. (Ret.) Stanley W. Jones, who serves as the Education Liaison for the Pennsylvania Army National Guard said the military presence there was not a recruiting tool, but rather a mutual investment in the education of America's youth.
"We had everyone working together," said Jones. "It's important that we're seen as helping educators and being a partner with the educational community. That's what it's all about."
The Scranton, Pa. native retired from the Pennsylvania Army National Guard in 2006 and has been forming partnerships with educators, civic leaders along with multiple local, state and federal agencies for more than three decades.
The Army National Guard also utilized the conference to educate attendees about its Partners in Education Program, National Guard Math and Science Mobile Learning Center, National Guard GED Plus Program and the National Guard Patriot Academy.
During the first day of the conference, Patriot Academy Commandant Col. Perry W. Sarver, Jr. gave a presentation entitled "Reducing the High School Dropout Rate: One Soldier at a Time." Sarver discussed how the Patriot Academy allows qualified applicants between ages 17-21 an opportunity to enlist and transfer from the dropout rolls of their last high school attended. Patriot Academy graduates told their unique stories and took numerous questions from the audience.
On day two of the conference, Scott Farrell, National Director of Education Outreach for the Army National Guard, and Sgt. Maj. Jerrell Wright, Division Sgt. Maj. of the Army National Guard Education, Incentives and Employment Division presented "The Army National Guard: Your Community Resource for Dropout Prevention." Ferrell discussed the Partners In Education Program which provides schools with career mentors who are actively serving in the Army National Guard. Wright discussed the National Guard GED Plus Program which allows applicants without a high school diploma or GED to enlist into the Guard to earn their GED credentials while preparing for Army basic training.
Wright said he often gets puzzling looks when people learn that the Guard also has an accredited high school called the Patriot Academy, a GED credentialing program, a high school mentorship program and a math and science mobile learning center on a nationwide tour.
"I get asked all the time, 'why is the military getting involved in education,'" said Wright. "I tell them that it's a positive investment in our community. The National Guard has always been in the business of education and building up America's hometowns."
Wright added that to address a complex problem, the Guard strategically created programs to help in dropout prevention providing disadvantaged youth an opportunity to serve their country. "It's not only an investment in the local community, but helps the nation resolve national security concerns," Wright added.
President Barack Obama outlined the crisis in his 2010 National Security Strategy stating while the country lost ground in education, our competitiveness in a global economy has faded. Our success depends on educating our children to succeed based on knowledge and innovation.
The National Guard answered the call again and launched a state-of-the-art Math and Science Mobile Learning Center to help increase math and science scores in the most underserved parts of the country. The Mobile Learning Center embarked on an 11 state tour across the nation in August and is expected to conclude its initial tour in February, 2011.
Farrell said as Citizen-Soldiers, helping communities with an education crisis is no different than helping with other crises that occur.
"It's all about our communities," Farrell said. "We're either part of the solution or part of the problem and the Guard has always been part of the solution. We're here to show them that the Guard is here to help make a difference in our communities, help our society, and make sure that students get the education and training that they need to be successful in life. It's not just lip service; it's the actions we take."
While the Philadelphia Recruiting Team worked diligently behind the scenes, Soldiers who have benefited from the National Guard's education programs were out front talking with educators, counselors and attendees. High school graduates and GED recipients from the Army National Guard's Patriot Academy and GED Plus programs highlighted two sessions during the conference and also served as ambassadors for the programs at booths in the exhibit area.
Pvt. Cassidy Galloway, a 2010 Patriot Academy high school graduate, said she enjoyed speaking at the conference and sharing her accomplishments with educators who connected with her. Galloway graduated November 23, 2010 and is scheduled to return to her hometown of Cottonwood, Arizona over the holidays to assist with the hometown recruiting program.
"I am proud of being in the Army National Guard, and I love the feeling you get when others appreciate you too," said Galloway. "I hope to go to schools in Arizona and talk to students about not dropping out and staying in school, or attending the Patriot Academy or GED Plus as a second chance towards a strong future.
Patriot Academy graduate Pvt. Jeffery Hardin said he was surprised to learn that the dropout epidemic wasn't just an issue in his hometown of New Albany, Indiana, a suburb north of Louisville, Ky.
"I didn't realize how big of a problem we have in this country until I came to this conference," said Hardin to a group of attendees. Hardin dropped out of school to help his ailing mother, and earn extra income to prevent his family from losing their home.
GED Plus graduates PFC Joseph Pollini from Boston, Mass. and Pvt. Jessica Tallant from Mays Landing, N.J. dropped out of school and jumped from job to job, trying to make ends meet before they joined the Army National Guard. Pollini said before learning about his opportunities in the National Guard, he was unsure of his future.
"The GED Plus Program was the greatest thing for me," said Pollini. "I didn't think I would go anywhere with life. I was doing nothing. I didn't know what I was going to do with my life. I didn't know where I was going to live the next day." Pollini said with his GED he will now pursue his degree in criminal justice and become a law enforcement officer in his hometown.
Tallant said she turned things around at age 21 when she realized she needed help. "The Guard gave me the best deal I could have ever been given in my entire life," Tallant said. "The teachers at GED Plus were so patient, so kind, and took their time to teach us everything that we needed to know. I received my GED and also got prepared for basic training." Tallant graduated from the U.S. Army Military Police School and is currently studying criminal justice at the Richard Stockton College of New Jersey.
Executive Director of the National Dropout Prevention Center/Network, Jay Smink, Ph.D., said the assistance provided a large cost savings for the non-profit National Dropout Prevention Center/Network and was also a great opportunity for the National Guard to learn what other partners are doing.
"The conference could not have been possible without a lot of people," said Smink. "But one particular group I want to give special thanks to -- you've seen them around all week long -- is the National Guard Soldiers who have helped us. Thank you not only for what you've done for us here, but what you also do for us elsewhere."
The National Dropout Prevention Center/Network hosts "Solutions to the Dropout Crisis," a monthly radio webcast program through Clemson University Radio Productions. The National Guard Patriot Academy will be featured Tuesday, December 7, 2010 from 3:30 to 4:30 EST at http://www.dropoutprevention.org and will be available for download online through searching Solutions on iTunes.
For additional information on the Army National Guard's educational programs, log onto https://www.education.ng.mil/ .
###